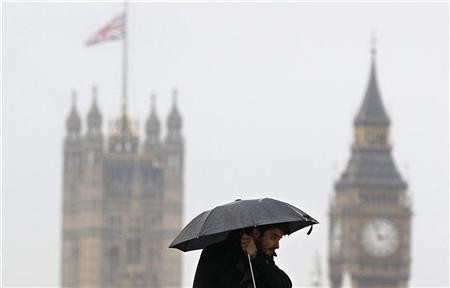 The threat of a triple-dip recession still hangs over the struggling UK economy after business capacity building slowed sharply in the first quarter, according to a fresh survey.
However, growing global optimism in some of the UK's key export markets refreshes hopes of a trade-led economic recovery, as China picks up again, the US outook brightens, Singapore stabilises and Europe continues its slow amble toward recovery.
This is according to the first quarter's Global Economic Conditions Survey, carried out by the Association of Chartered Certified Accountants (ACCA) and Institute of Management Accountants (IMS), which gauged opinion from almost 2,000 financial professionals.
"The underlying reason for the UK's loss of capacity may instead be that business opportunities dwindled in Q1, falling to levels comparable to a year ago," said Emmanouil Schizas, senior economic analyst at ACCA.
"That said, the medium-term trend in business opportunities is flat, so capacity should stabilise.
"At the global level, the confidence gains recorded in Q1 2013 are much larger than would be expected given improved economic fundamentals and are likely to dissipate.
"In Europe, the fallout from the Cyprus bail-in will also likely result in a loss of confidence in Q2 - so while the Q1 results are promising, they are likely to be short-lived."
The UK economy is teetering on the brink of an unprecedented triple-dip recession after a 0.3 percent contraction in the final quarter of 2012.
Most economists predict just 0.1 percent growth in the first three months, therefore narrowly avoiding another slump, as better-than-expected service sector output helps offset continued decline in the construction and manufacturing sectors.
ACCA/IMA found that despite easing pressure on cashflow and new orders at British firms, as well as a general improvement in the accessibility of finance amid central bank credit easing efforts, output was slow to pick up in the first quarter.
This suggests that it is a lack of business opportunities holding companies back, rather than access to growth capital.
Bank of England research recently found weakening demand for credit among SMEs in the first quarter.
Confidence grows in global economy
Twenty four percent of respondents to the ACCA/IMA survey said they were more optimistic about the prospects for their organisation than in the previous quarter, up from 19 percent.
Though 37 percent reported a loss of confidence, this is down from the 43 percent who said the same thing three months before.
This is due to rising hopes of a global economic recovery rather than any improving picture on the ground.
Western Europeans surveyed reported improving cashflow and new orders in the opening three months of the year, as central and eastern Europeans showed a strident rebound in business confidence.
In the Asia Pacific region, the availability of growth capital is increasing and investment opportunities have picked up slightly. Chinese respondents revealed accelerating business capacity building in the first quarter.
"The good news is that all three of the world's major economies are recovering, however weakly, from a combination of challenges," said the ACCA/IMA report.
"Europe is managing to stagger on despite the impact of austerity; China has almost certainly avoided a hard landing; even the US economy is recovering from the political fallout of late 2012, with businesses slowly taking stock of the real impact of new policies and considering investment once again.
"The next quarter will test their ability to turn newfound resilience into growth."
Is Britain's High Street Broken? [VIDEO INVESTIGATION]