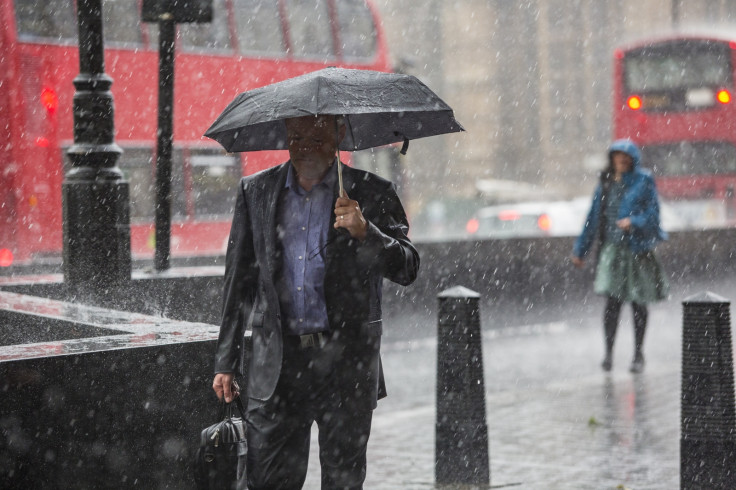 The four-day-long heatwave has come to an end as thunderstorms are set to hit parts of England, including London. A severe weather warning for rain was issued by the Met Office on 22 July morning and is expected to remain in place until 10pm, bringing torrential downpours.
London, the Midlands and parts of eastern England fall within the rain warning area, with forecasters warning of the possibility of flooding. As much as 20-25mm of rain is likely to fall within a short space of time, with as much as 50mm in two or three hours.
A chief forecaster for the Met Office said: "Heavy showers and thunderstorms will break out during the later morning and afternoon before slowly fading this evening. While some places will miss the heaviest showers, where showers do occur they are likely to be prolonged allowing some large amounts of rain to fall."
The Met Office has warned that light winds will mean that the showers will be slow-moving, resulting in prolonged downpours in some areas. The heaviest showers are expected during the afternoon and early evening, which coincides directly with rush hour and brings the risk of disruption to travel as commuters head home for the weekend.
Although the exact location of the downpours is uncertain, the Met Office has said that the areas most likely to be affected are those along the western parts of the warning area. This includes Warwickshire, Leicester, Oxfordshire and Reading.
The stormy weather comes days after the UK saw highs of 33C across the country. Warmer and sunnier conditions are due to return to London over the weekend, with highs of 27C expected on 23 July and 25C on 24 July, before temperatures dip slightly during the beginning of next week.