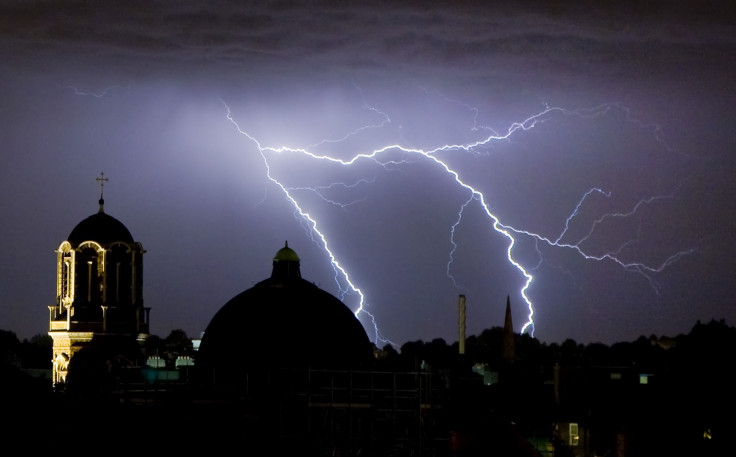 Severe weather warnings have been put into place in London and the south-east for the weekend as thunderstorms are set to batter parts of the country.
Rain, lightning, hail and gusts of wind have been predicted, bringing the likelihood of flooding and difficult driving conditions. The showers will mark the beginning of a period of wet and windy weather as the UK storm season begins.
"Cold air passing over the sea will release large amounts of energy leading to a risk of thunder and hail," a chief forecaster for the Met Office said. "Showers will become more frequent later on Friday night (30 September) with spells of more persistent showery rain developing through Saturday morning (1 October). The rain and showers will be often heavy with a risk of hail, lightning and gusty winds."
As much as 30mm of rain is expected within just 2-3 hours, while some locations could see 40mm in less than six hours. Warnings have been issued over the possibility of surface water flooding, with the worst affected areas expected to be in East Sussex, Kent and Medway.
A yellow "be prepared" warning for rain has been put in place in London and the south of England, as well as the West Midlands and Wales. The warning comes into effect in the early hours of Saturday (1 October) and remains in place until 8pm later that day.
The weather warning comes days after forecasters warned that the UK is in for a colder than usual winter due to the La Nina ocean effect. Over the last three years, the country has seen mild, wet and windy winters, however, the strong El Nino has now transitioned into a weaker La Nina in the ocean, bringing more extreme winter chills.
"As we look ahead to winter... the evidence does appear to suggest some colder risks in western Europe in December," said Dr Todd Crawford, chief meteorologist for the Weather Company. "The drastic change from El Nino conditions to weak La Nina conditions may help drive a different pattern this winter."