A severe weather warning has been issued as the UK prepares for more heavy snow and the coldest March weekend for half a century.
The Met Office has issued severe weather warnings for the East Midlands, North West England, Northern Ireland, South West Scotland, Lothian Borders, South West England, Wales and the West Midlands.
It has also issued a level three cold weather alert, saying there is a 90 percent probability of severe cold weather, icy conditions and heavy snow in parts of the country.
The Met Office says it expects rain, snow, wind, fog and ice to affect many parts of the UK over the coming days.
Up to a foot of snow and blizzard conditions are expected in areas of higher ground. The public, it says, should be prepared for localised flooding and disruption to travel.
Leon Brown, chief meteorologist at weather.com, said Atlantic fronts moving north east will bring severe weather over the next two days: "Heavy snowfalls for central and north west Britain and the snow spreading to the south by Saturday.
"This weekend will be one of the coldest in many years with temperatures struggling to lift above zero and a significant windchill."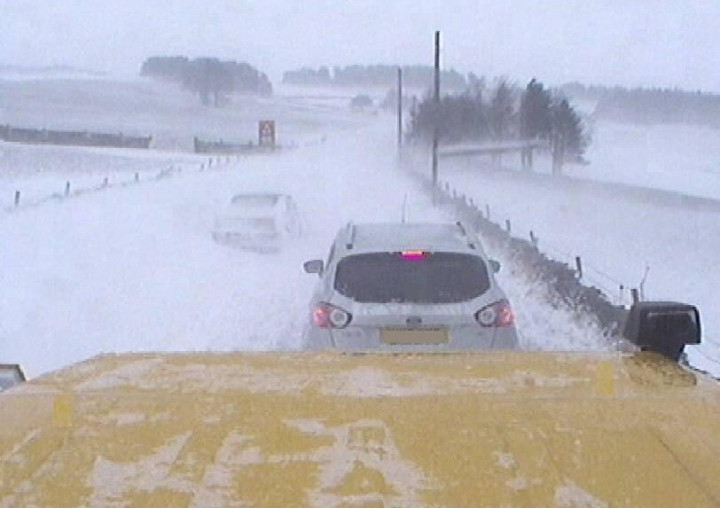 He said snow will be particularly severe in north east Ireland and North Wales.
"On Friday night to Saturday morning the snow will begin to spread back south and westwards. By Saturday morning snow is likely in a wide band across Britain with moderate or even heavy snow in central areas.
"By mid-morning on Saturday we could see as much as 20 to 40cm over the higher parts of the Pennines, Welsh Mountains and high ground in north east Ireland. However, even over the Midlands to south east England three to eight centimetres is possible, with 10 to 15cm over the central to North Midlands."
Brown said it will remain "bitterly cold" across much of central and the north of the UK into Sunday.
At present, around 18,000 homes in Northern Ireland are without power due to the severe weather.
Overnight, flooding in the south west left a number of roads closed. A road partially collapsed in Ashburton and there was a landslide at Shaldon and Kingskerswell. Another 40 to 60mm of rain is expected to fall by the end of Friday.
At present, the Environment Agency has 15 flood warnings and 40 flood alerts in place in the south west. Floods have also affected Cork in Ireland.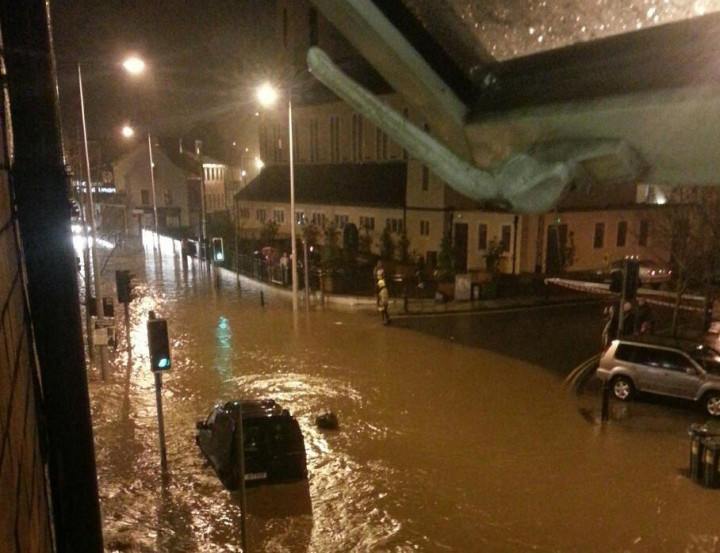 Devon and Cornwall Police warned motorists not to drive in the flood water as people will not know how deep it is or if the surface has been damaged.
The AA also urged drivers to take care on the roads over the weekend. Darron Burness, the AA's head of Special Operations, says: "It's going to be a real witch's brew of driving wind, rain and snow, which will inevitably cause disruption on the roads. Drivers should be well prepared as even short journeys can quickly turn bad.
"Drifting snow could repeat the scenes we saw in southern England last week when hundreds of drivers got stuck overnight - it only takes one or two vehicles struggling for grip for the situation to quickly escalate.
"Keep your speed down as visibility could be seriously reduced and there's a risk of localised flooding - just stay out of flood water. Also with temperatures set to remain low, any snow that settles will likely persist for several days, so be wary of icy patches.
"Wherever you're going, take plenty of warm layers, check the travel reports before heading out and stick to the main roads where possible."
READ:
Big Freeze UK: Could Gas Supply Run Dry?
Big Freeze UK: Severe Weather Forces Cumbria Nuclear Power Plant Sellafield Shutdown
Big Freeze UK: Susan Norman Missing After House Collapses in Cornwall Landslide
Kate Middleton Braves Snow at Scout Training Camp in Cumbria [SLIDESHOW]