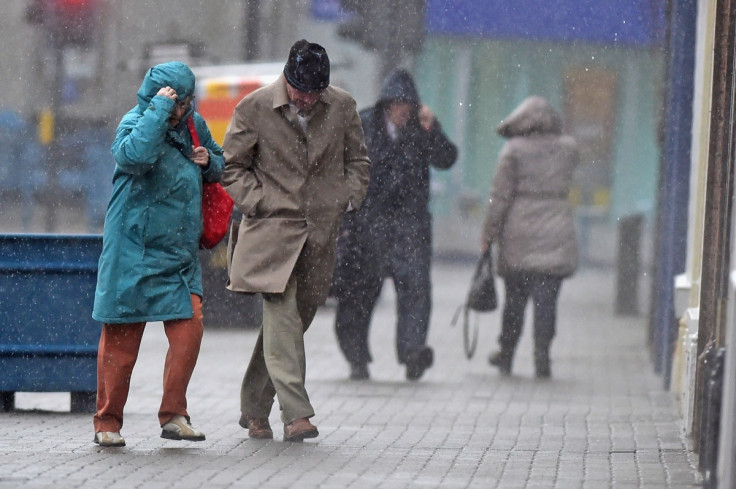 Rumours that a third named storm could hit Britain this weekend are premature, weather forecasters have said. While conditions are expected to turn windy and chilly, Storm Clodagh is not scheduled to batter the country any time soon.
However, low-pressure systems are expected to affect the UK over the next few days, bringing heavy rain and wind. The pressure system is likely to continue through the next week, bringing unsettled weather for much of the country. Despite this, temperatures will remain relatively mild for the time of year as colder spells in parts of the country are expected to be short-lived.
A representative for the Met Office said: "This weekend the UK will see some unsettled, windy weather but at this stage the Met Office has not issued any weather warnings for wind. We have not named the next storm despite some articles in the press suggesting this is the case."
On Friday 27 November, Black Friday shoppers faced the first round of unsettled weather. Bargain hunters in Northern Ireland and Scotland were the first to be hit by strong, cold winds alongside rainy conditions in the morning. Shoppers further south were given more time to bag some bargains before the rain moved in. Wales and northern England were expected to begin seeing rain in the afternoon, with gusts of 30-40mph making the above-average temperatures (10C-12C) feel significantly colder. Rainfall was not expected in London and the rest of the south until Friday evening.
The wind and rain will persist through until Saturday 28 November, when much of the country will awake to a chilly morning, with frost and icy patches in some areas. A band of rain will creep in from the west as the day progresses, with temperatures rising to 10C-11C in the south. However, the north will be colder as daytime temperatures fall as low as 6C-7C in some parts. Rain will batter most parts of the country by the afternoon.
Sunday 29 November will be slightly warmer, with a high of 13C in London. The south is expected to remain largely dry throughout the day, but the north of England and much of Scotland will be battered by heavy rain. Temperatures will remain around average in the south, while the north and the west will feel colder with the risk of severe gales.
The UK is bracing for what is expected to be the coldest winter in 50 years, as some forecasters have feared a repeat of 1963 when the worst winter in history saw temperatures plummet to near -20C in January. British pensioners have been warned to stay on alert for the winter freeze, while homeowners have been warned over the possibility of water pipes freezing and bursting.
UPDATE [11.52am]: The Met Office has issued wind warnings for England and Wales for this weekend. The warning comes into effect on Saturday morning at 9am and will remain until Sunday evening at 6pm.