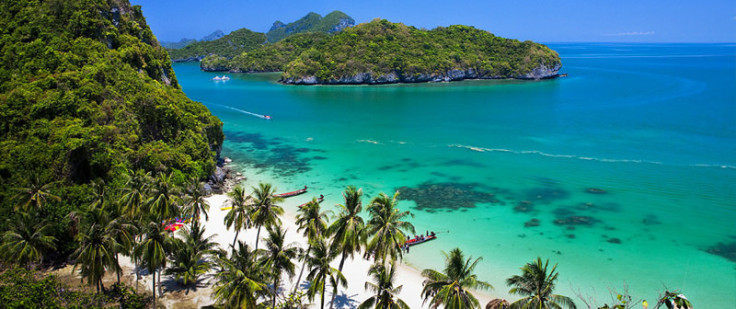 Tourists were injured after a boat carrying 32 passengers and four crew flipped over on its return journey after a day trip to Mu Ko Ang Thong marine park in Thailand. A British woman is reported dead and 21 people have been injured, with seven suffering from serious wounds, according to Thailand's Public Broadcasting Service (PBS).
A second tourist, whose nationality is not yet known, was also killed, with five other people missing, according to local media reports. The two bodies recovered from the scene of the accident are believed to have been found underneath the boat, which turned over 'in rough seas'. There was no rain at the time of the incident, but Lam Khai is known to local sailors for being subjected to powerful winds, The Bangkok Post reported.
Koh Samui district chief Paiboon Ohmak said the accident happened at 4.30 pm local time. The Angthong Discovery 3 speedboat was returning from the Angthong islands and capsized near the Khakhi cape in Tambon Angthong, Koh Samui.
A passenger list appears to show a number of British nationals, as well as German, Romanian and Chinese citizens, according to the Mirror.
A spokeswoman for the Foreign Office said: "We are supporting the family of a British woman who has sadly died following a boat accident near Koh Samui, Thailand.
"Another British national has received treatment in hospital for injuries suffered in the same incident. We remain in contact with local authorities in Thailand for further information."
The Foreign Office told Mirror Online in a statement that they are 'urgently seeking more information following reports of a boat accident near Koh Samui, Thailand'.
Rescue attempts were assisted by fishing and tourist boats in the vicinity, who managed to pull several passengers out of the water. The driver of the boat was a 47-year-old man, Thai Rath newspaper reports.
Thailand is one of the most popular holiday destinations in south-east Asia, visited by around 25 million travellers every year, including nearly a million Britons.