Nigel Farage's grin-cum-gurn pestered us for attention across most of 2014. Pint in one hand, fag in the other, the Ukip leader has pub-talked his way through four election campaigns in the year, three of which his once-fringe party won.
Ukip's recent success is undeniable. But has it peaked?
Farage's party won the popular vote in the European Parliament elections. It won by-elections in Rochester and Clacton, securing two MPs in the House of Commons.
Though it trailed Labour, Conservatives and Liberal Democrats in the English local elections, it managed to – unlike them – increase its number of council seats. And it has steadily improved its poll ratings, overtaking Lib Dems in third place.
Ukip's surge has, in large part, been powered by a discontented white working class that feels left behind by elitist Westminster politics and globalisation, the manifestation of which has been over a decade of mass immigration from the European Union (EU), which Ukip vehemently opposes.
They see their local communities changing in front of them and yearn for the cultural certainties of the past rather than the uncertainties of the future. Amid the rise of equality and social liberalism, they feel under attack. Old prejudices are no longer acceptable. They blame political correctness.
Has it all started to come unstuck, though? Ukip politicians and members have been caught up in a number of scandals and embarrassments.
Just days after Kerry Smith was enthroned as Ukip's parliamentary candidate in South Basildon and East Thurrock, where the party has a large support base and could win a seat in 2015, he had to quit.
A recording emerged where he had made racist and homophobic comments, including the terms "Chinky" and "poofters". He also joked about "shooting peasants" on a "peasant hunt" through Chigwell. Smith apologised and resigned his candidacy.
Another Ukip candidate, John Rees-Evans, who is standing for Cardiff South and Penarth, was widely mocked after a video was published of him telling the story of a "homosexual donkey" trying to "rape" a stallion he owned.
Rozanne Duncan, a Ukip councillor in South Thanet and deputy leader of the party's group on the council, was expelled after she made as yet undisclosed "jaw-dropping" comments to the BBC in footage set to be aired in February. It's not known what Duncan is alleged to have said, but the comments are thought to have been race-based.
These are just three of the most recent debacles. There have also been allegations of sexual harassment thrown at a senior member of the party by a female candidate; accusations that Ukip is taking advantage of the EU for political funding despite its fierce criticism of the body; and internal bickering over selection policy as highlighted by the anonymous briefing against Neil Hamilton, who later angrily pulled out of the race for South Basildon and East Thurrock.
And it's not just the party's underbelly. Farage, the man around which a personality cult has been built, is faltering. He looks tired and irritable, more so than he used to, after months of intense scrutiny. The more popular your party, the more pressure you come under.
He has come under fire several times since his EU election triumph in May. Most notably over comments that women should breastfeed in a corner when out in public; that he wouldn't want a Romanian as a neighbour; and that hearing foreign voices when on a train in London makes him feel uncomfortable. He also defended Kerry Smith's use of the word "Chinky" by saying he is a "council house boy from the East End of London, left school early and talks and speaks in a way that a lot of people from that background do".
Despite all this, Farage and Ukip have not suffered in the polling. Why? Well, quite a lot of voters share similar views. And Farage is seen as the only man speaking honestly in politics, who is really representing the feelings of the public on issues like immigration, the EU and political correctness.
The criticism of Ukip entrenches their views on the patronising and out-of-touch elite. An attack by the media and political classes on Farage for expressing fairly common, if unpalatable, views on Romanians is by proxy an attack on his voters. Others may just not see such stories. They may not follow the news that closely.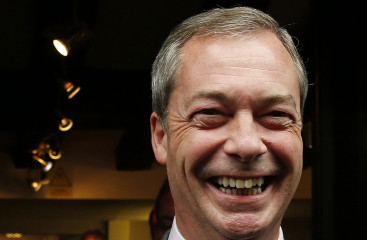 "Progressives might celebrate as each candidate is exposed and ridiculed. Calling out racism where racism exists is important," Matthew Goodwin, a University of Nottingham academic who has followed Ukip's rise closely, wrote in the Guardian.
"But over the longer term this will not get our society very far. If it did, then Europe as a whole would not have seen a stubbornly persistent rise of radical right politics over a 30-year period.
"Without turning attention to the deep and growing value divides that underpin Farage's revolt, they risk inadvertently strengthening his support among voters who are quickly drawing a line from our media and political class to their unsettling experience of social and economic change."
So far, electoral victories and ladles of media coverage have helped Ukip keep up its momentum. But they may hit a brick wall in 2015 at the general election thanks to the brutal first-past-the-post system, where the winner takes all. It has been pointed out that Ukip's support is spread thinly across England rather than clustered in intense spots where it can pick up seats.
Ukip may drag voters away from Labour and the Tories in each constituency – a serious problem for both the main parties – but rarely by enough to win the seat themselves.
There are a handful of constituencies where Ukip could potentially triumph, but the parties are gearing up to throw all their resources into an election set to be closer than in 2010, which produced no overall majority and a Conservative-Lib Dem coalition.
Labour and the Tories may yet win voters back from Ukip, some of whose support is based on protest against Westminster. Historically, voters have used local and European elections to register their dissatisfaction at central government, while sticking to the traditional parties when it comes to a general election. This may ring true in May 2015.
If Ukip hits a wall at the next election, it will have lost all of its current momentum: 2015 will be the biggest test yet for Ukip on whether it has the legs to stay running in politics.