Ukip April Fools: A Month of Gaffes and Embarrassment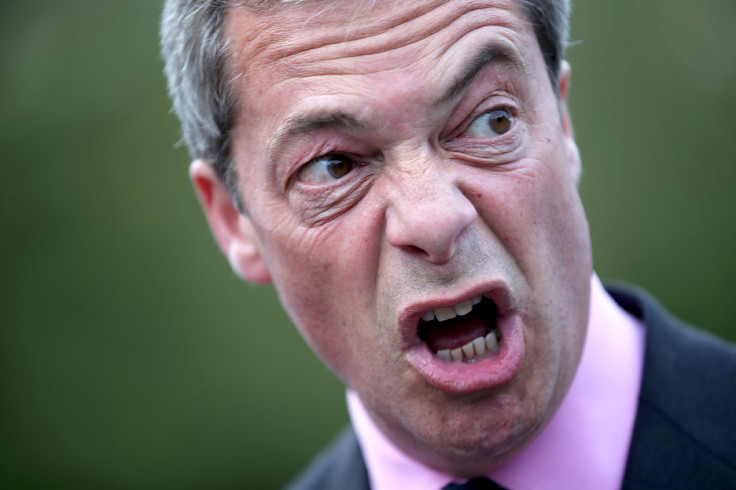 The month running up to the European elections has, unsurprisingly, been an eventful one for the UK Independence Party.
It seems the phrase "all press is good press" is the leading motto as, according to the polls, support for the party is higher than ever.
Despite Nigel Farage's decision to back down in the Newark by-election, the ComRes/ITV News poll has put support for Ukip at 38% for the European elections.
Some will tick Farage's box as a protest vote against the political elite, while others genuinely believe Ukip – with its gung-ho "pub bloke" cast of characters – offers a new chance to solve the country's political, social and economic problems.
Alas, the last month – press coverage aside – has not been a good one for Ukip. April was chock-a-block with gaffes and embarrassment, resignations and racists, all clambering over one another for their five minutes of fame.
Most recently, Channel 4 News revealed that the Greek-born tycoon Demetri Marchessini, who handed the party £10,000 at the beginning of last year, received a further £5,000 from him four months ago – after a public falling-out with the party over his "eccentric and unpalatable" views.
In Wednesday night's interview, Marchessini created a fresh headache for the party by claiming that there was no such thing as marital rape, and that women should be banned from wearing trousers as they "discourage love-making".
He also claimed there was "no such thing as fidelity" in homosexual relationships.
His comments would be laughable if he weren't associated with a party on the rise in Britain.
The poll found that 33% of voters believed the party to be more honest than others. Ukip are churning out guff ferociously, and many decent members of the British public are lapping it up.
April marked a significant month for Ukip in many ways. Their highly publicised anti-immigration poster campaign caused a furore.
One poster features a flaming Union Jack flag, the other shows a man dressed as a builder begging for spare change. It reads: "EU policy at work. British workers are hit hard by unlimited cheap labour."
The builder in question, however, turned out to Dave O'Rourke, an actor from Dublin, aka a migrant worker. You just couldn't make this stuff up.
In a similarly hypocritical fashion, it was revealed that Nigel Farage – the immigration-bashing "man in the pub" of Ukip – actually employs his German wife, Kirsten Mehr, as his secretary.
Justifying this at the launch of the party's poster campaign, he told the BBC's political editor Nick Robinson that his wife earned a "modern salary" for being "available seven days a week".
This isn't the first time Farage has faced scrutiny. A few weeks ago, the party leader was forced to reject claims he might have abused EU expenses after the Times suggested he received £15,000 a year to run the small office near Bognor Regis, although it had been provided rent-free by Ukip supporters.
Records from the Electoral Commission suggested the property had not be declared since 2004, when two donations worth £1,100 were registered.
Turning away from Farage for one moment – as difficult as that is – April has been a busy month for other Ukip offenders. Take Andre Lampitt, for example. The "poster boy" of the European election broadcast was recently suspended after posting a series of vile Twitter comments. One read: "Muslims are animals their faith is disgusting their prophet is (a) pedophile" (sic).
It was also revealed this week that Roger Helmer, the senior Ukip MEP, had previously penned a pamphlet stating homosexuality is "not a valid lifestyle worthy of equal respect". In the leaflet, titled Straight Talking on Europe, Helmer denounced homosexual behaviour as "undesirable".
And last but likely not least, Douglas Denny, a would-be Ukip politician, made headlines by commenting on a Ukip web forum that gay men and women were "abnormal". He defended his assertion on the ground of semantics - in the sense that they are not normal as they are a minority.
A vehicle for a protest vote, yes. But Ukip is not a viable option for Britain. Members hate the EU but seem to cash in, they are incapable of sensible debate on Europe and their policies are daft. And the party trails its less-than-desirable associates behind the boisterous facade of Farage, the "everyman" - an ex-banker and son of a stockbroker with a penchant for fags and booze.
Let's see what happens in the elections.
© Copyright IBTimes 2023. All rights reserved.