A Ukip by-election candidate has controversially claimed that migrants have "invaded" Europe, it emerged on Sunday night (22 January).
Fiona Mills, an NHS worker who is standing for the Eurosceptic party in Copeland, made the comment on Twitter in March.
Mills, who also sits on Ukip's National Executive Committee, described EU foreign affairs chief Federica Mogherini as "dangerous" and said she "actively encouraged the migrant invasion".
Jonathan Bartley, Green Party co-leader, told IBTimes UK: "This divisive attitude and intolerance is sadly what we've come to expect from Ukip candidates.
"The party has played on people's fears, whipped up hatred and diverted attention away from the real challenges this country faces.
"We can be so much better than this. We should be building communities that leave no one behind, and create real prosperity for all – and that means fighting hate crime and xenophobia which makes us all poorer."
Mills' remark came to light a month before the by-election for the West Cumbria seat on 23 February.
The vote will be triggered once Labour MP Jamie Reed, a Jeremy Corbyn critic, quits the House of Commons to re-join the Sellafield nuclear plant.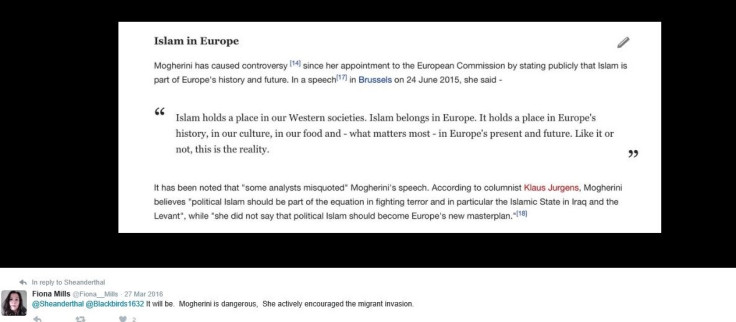 Local councillor and former doctor Gillian Troughton has been selected to defend Reed's majority of more than 2,500 votes from the general election.
The Conservatives are expected to be Labour's main competition in constituency after the party secured a second place in 2015.
Corbyn is also facing a tough by-election fight for Stoke-on-Trent central following Tristram Hunt's resignation announcement.
The historian, who won a majority of more than 5,000 votes, is joining the Victoria and Albert museum in London as director. Ukip leader Paul Nuttall has been selected to contest the West Midlands seat for his party.
The MEP is hoping to win over the 69% of voters in the constituency who backed a Brexit at the EU referendum in June.
Ukip had not responded to a request for comment at the time of publication.