Ukip deputy leader vows to supplant 'out of touch' Labour after Paul Nuttall election
Peter Whittle, Douglas Carswell and Lisa Duffy spoke to IBTimes UK after Nuttall's victory.
Ukip will supplant the "out of touch" Labour Party and become the main opposition to the Conservatives, the party's new deputy leader announced on Monday (28 November).
Peter Whittle made the remarks to IBTimes UK minutes after Paul Nuttall's election to the top of the Eurosceptic party.
Whittle dropped out of the race to succeed Nigel Farage, but he dismissed a suggestion that he had made a backroom deal with Nuttall to become his deputy if he quit the contest and was keen to stress that Monday was the first time he was made aware of the role.
"The most important thing, as Paul outlined, is that we've got Brexit to make sure that absolutely happens because at the moment we're facing an assault on democracy from within democracy, from within the political class."
He added: "Rather like the Labour Party supplanted the Liberals 100 years ago, that is what we plan to do with this out-of-touch Labour Party."
Whittle, who is a London Assembly member and contested the Mayor of London election for Ukip, said he wanted the party to focus more on cultural issues.
"Such things as the supremacy of our legal system, such things as the values of our free speech," he explained.
Nuttall, who won more than 62% of the vote – to beat Suzanne Evans and John Rees-Evans – also said Ukip would target Labour seats in the north of England by concentrating on the issues of immigration and the Brexit vote.
"The Labour Party has ceased to speak the language or the address the issues of working people," he said. "They have a leader who will not sing the national anthem, a shadow chancellor who seems to admire the IRA more than he does the British Army.
"A Shadow Foreign Secretary who sneers at the English flag and a Shadow Home Secretary who advocates unlimited immigration."
But Labour have hit back at Nuttall by highlighting OLD pro-privatisation comments he made about the NHS.
"I believe that the NHS is a monolithic hangover from days gone by and unfortunately we're becoming – or fortunately shall we say – we're becoming an older population and quite frankly I would like to see more free markets introduced into the health service," he said.
Douglas Carswell is 'pleased as punch'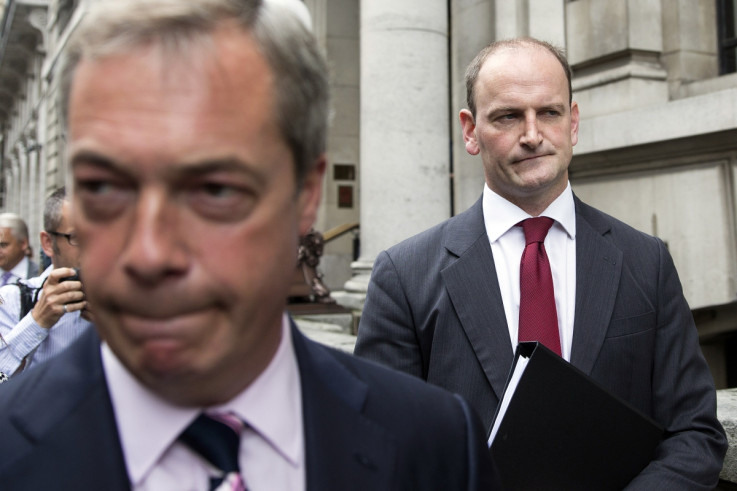 Nigel Farage and Douglas Carswell
Oli Scarff/Getty Images
Elsewhere, another big theme of Nuttall's victory speech was unity.
The post-Brexit vote period saw renewed in-fighting within Ukip and even an "altercation" between Steven Woolfe and Mike Hookem in the European Parliament in Strasbourg.
Nuttall followed up his rhetoric by appointing Patrick O'Flynn MEP to his top team alongside Whittle, who are from separate factions within Ukip.
But Evans, a former deputy chair of the party who fell out of favour with favour Farage, was not immediately given a position.
"Paul has said that he will make further announcements over the next 72 hours and I will be really surprised if Suzanne is not part of that. But he's got to make the right call for our party moving forward," she said.
Ukip's only MP Douglas Carswell was "pleased as punch" after Nuttall's victory. Carswell had a turbulent relationship with Farage and claimed the election will allow the party to "reset".
But has he been offered a greater role in the party? "I've had a number of conversations with Paul recently and I'm extremely happy to be doing what I'm doing," he said. "I will look to make sure the resources of the parliamentary party are available to support his efforts."