Meet Suzanne Evans: Ukip leadership hopeful talks British values, Brexit and Nigel Farage
Evans speaks to IBTimes UK about her bid to become the next leader of Ukip.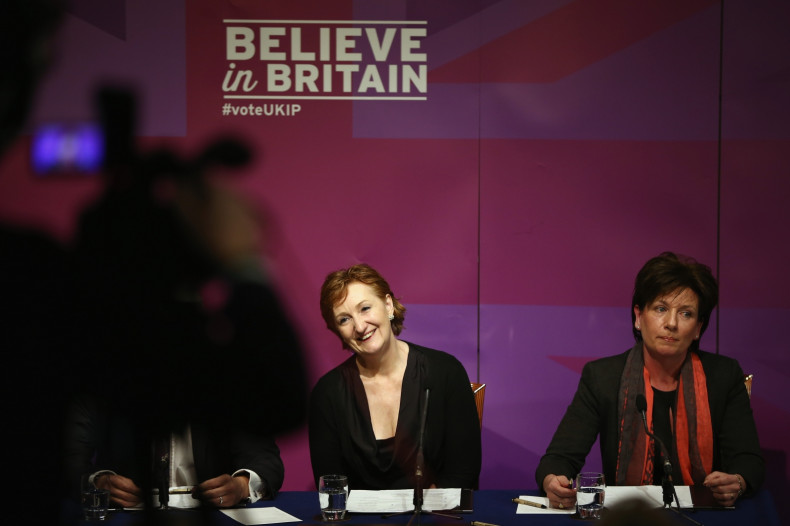 Suzanne Evans is hoping for a comeback on 28 November. Once a rising star of Ukip who co-authored the party's 2015 general election manifesto and won the backing of Nigel Farage as interim leader during his infamous "un-resignation" episode, the former deputy chairman was demoted and eventually suspended.
Evans, 51, unsuccessfully took Ukip to court over the disciplinary measure and had to sit on the sidelines in support of Lisa Duffy during the party's last leadership election.
Since then Diane James has quit the top job after just 18 days in the role and Steven Woolfe, a former leadership favourite, left the party altogether following an "altercation" with a fellow Ukip MEP, Mike Hookem.
With her suspension over, Evans was in a three horse race to succeed Farage.
That was until this morning (31 October) when journalist Raheem Kassam, the "Faragest of the Faragists", dropped out of the contest. Evans' main rival is now former deputy leader Paul Nuttall.
But with the Brexit vote in the bag and Theresa May taking a pro-grammar schools stance, what exactly is the point of Ukip?
"I make no apologies in saying Ukip's raison d'etre is getting Britain out of the EU. There's clearly something of an establishment plot going on to try and keep us in," Evans told IBTimes UK.
"We've had hundreds of MPs who are trying to insist that there's a parliamentary vote. We've got activist lawyers bringing court cases, we've even got an intervention from Tony Blair.
"There's clearly a big attempt to try and portray those who voted Leave as imbeciles who didn't know what they were voting for. Well, that's utter rubbish and we need to keep standing up for those people. Until that's happened, that has to remain our number one priority."
As for the UK's new prime minister, Evans isn't much of a fan. The Ukip leadership hopeful praised her "powerful" debut speech outside Number 10, but warned the Tories always "resort to type".
Evans should know – she was a Conservative councillor for the London borough of Merton until quitting the party in May 2013. "They don't care for the people who have been left behind in society, they look after their own," she said.
"May has made it very clear that she supports the big corporates, she's a corporatist prime minister. Ukip stands firmly against that. We support business, we support capitalism."
In fact, May's time overseeing the Home Office inadvertently helped the Ukip cause. Time and again, the former Home Secretary failed to meet David Cameron's now infamous "tens of thousands" net migration target.
The Conservatives promised to cut immigration, while the Office for National Statistics (ONS) estimated the figure to be more than three times Cameron's target.
The issue become a hot topic of the EU referendum and one of main reasons why the UK backed a Brexit, with Vote Leave endorsing an Australian-style points system.
The policy was first championed by Ukip, but Evans will not back an immigration target if she becomes the party's leader.
"I actually had quite a fierce argument with our former migration spokesman Steven Woolfe on this because he wanted to set caps and targets and I think, while we want to see immigration reduced dramatically, you have to say we need to find a level where it's sustainable," she said.
Ukip leadership timetable
Submission deadline of midday (31 October)
First hustings is held in London (1 November)
Ballots sent to Ukip members (11 November)
New leader announced (28 November)
Evans, a former BBC journalist, favours a work permit scheme and wants people to come to the UK if they "are in line with British values".
But what exactly are "British values" when they are at home?
"What's important to me is do you embrace the principle of democracy, do you you embrace one law for all – British law – and are you prepared to live under that law and that law alone? Do you embrace the principle of equality for women and gay people?"
Duffy, who was endorsed by Evans for the leadership last time around, backed a ban on Muslim women wearing a veil in public places. Evans seems to take a similar stance. "For me it stems from equality of treatment and I think you treat everybody equally," she said.
"If you're in a situation where you wouldn't be able to wear a balaclava or motorcycle helmet, you shouldn't be able to wear a niqab. It's equality of treatment, it's not picking on anyone section of the treatment."
Evans added: "To pick on one religion, you can't do it – you have to give everyone a fair crack of the whip."
As for Ukip's election strategy, Evans doesn't "play the blame game" but said the party had too many target seats last may, which led to a "huge disappointment" when only Douglas Carswell, an ally of Evans and foe of Farage, was re-elected as the MP for Clacton.
"You target those seats which you can win. One of our problems in 2015 was we sometimes threw a lot of money at seats at where we didn't really have a cat's chance in hell at coming anywhere. It was a ridiculous strategy," she said.
"We probably had too many targets seats. If we were having a general election this week, I would be saying Ukip should be targeting 10 seats."
But Evans would recommend Farage, who oversaw the strategy and has ruled out voting for her, for a peerage. "That's always been my position," she said.
Ukip leadership candidates
Paul Nuttall
Suzanne Evans
Peter Whittle
John Rees-Evans