Ukip donor Arron Banks believes the party can steal up to 40 seats off Labour at the next general election. The multimillionaire businessman and Brexit backer said the EU referendum result showed paved the way for the party to capitalise on what he said was the "metropolitan elite sneer at working class people".
Speaking on the BBC's Andrew Marr show, Banks, who is seen as a potential successor to Nigel Farage who stepped down as leader during the tumultuous aftermath of the Leave vote, said Labour won as many as 30 seats at the last general election because Ukip stole votes off the Conservatives.
He predicted a better showing at the next vote. "I think we could win up to 30 or 40 potentially. I think there is much greater opportunity," he said. "The Labour party is totally disconnected with their actual voters and we saw that as we went around the country. You look at some of the seats, some of them, 70% of them, voted to leave."
Banks, who formed the Brexit group Leave.EU, said immigration was not the only reason people voted Out at the referendum and defended the controversial "Breaking Point" poster.
"I didn't think it [the poster] was a mistake," he added. "I think that in terms of the referendum it was very much immigration versus the economy and I think it got right at the forefront of people's thoughts. It was not a mistake at all."
Whispers around Westminster claim Banks is preparing to spring a new right-wing party in the event a new Conservative prime minister delays triggering Article 50 that would set off Britain's exit from the EU.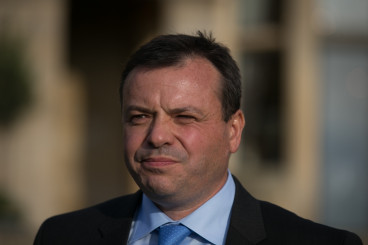 Citing fewer Conservative members and a swelling Labour grassroots, Banks said of a new party: "I think we are potentially talking about a new party and there are some sound reasons for that. If you look at our Leave.EU campaign we had more than one million followers, the social media reached out to 15 million people a week and we had tremendous reach."
He said Remain backer Theresa May as prime minister would see Ukip come back "with a vengeance" but "a slightly different scenario" if Andrea Leadsom, a Leave campaigner, prevailed.
There would be "death of Brexit by 1,000 cuts" if the home secretary became PM, he said, and claimed the media was behind May and because she would delay activating Article 50.