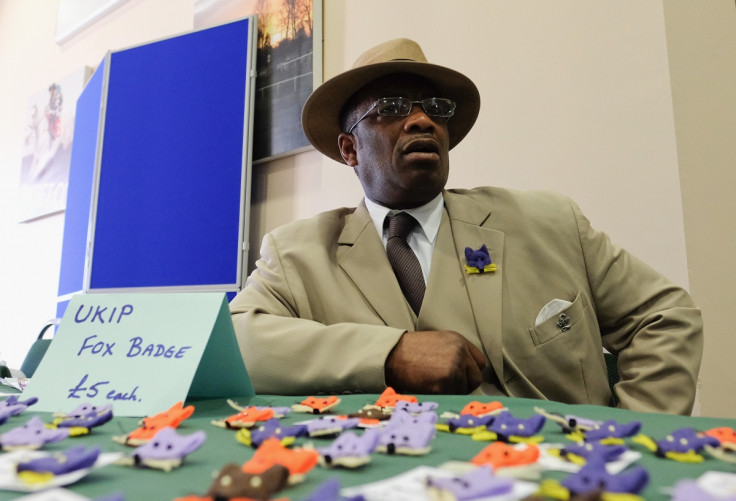 Ukip's most high-profile black member has quit the party amid allegations of racial discrimination against him. Winston McKenzie announced on Tuesday (3 November) that he had quit due to the behaviour of officials close to party leader Nigel Farage.
The former boxer is believed to be angry about being passed over by party bosses in the selection of Ukip's candidate for the Mayor of London. He told ITV he was being blocked from progressing in the party due to racism in the "higher echelons" of Ukip.
McKenzie said: "I'm incensed at the present moment because where I stand in Ukip, I feel as though I've been completely ignored, racially discriminated against by people in the higher echelons of the party."
To confirm who he was targeting his allegations towards, the Jamaican-born politician said: "I'm talking about the leader's followers." McKenzie has previously compared Farage to Jesus Christ, saying the Ukip leader could "do no wrong" and the party was Farage's "army".
McKenzie was Ukip's commonwealth spokesman until earlier in 2015, when he was replaced by MEP Jim Carver. At the time, he compared his sacking from the role to the execution of Fredo Corleone in The Godfather.
The former Ukip candidate has repeatedly made headlines during his time at the party, sparking controversy in 2014 when he called Croydon a "dump" just a few days before running in the council election. Prior to that, McKenzie had organised a Ukip "carnival" in Croydon that attempted to showcase Ukip as a diverse party during a time when Farage was being accused of racism.
However, the carnival failed to fulfil its purpose when the steel band booked by McKenzie refused to play, alleging they had not been informed the event was a Ukip-sponsored festival. Anti-Ukip protesters also gathered at the scene of the carnival, resulting in Farage cancelling his appearance over "safety" concerns.
IBTimes UK has contacted Ukip and is awaiting a comment.