Ukip hopeful Winston McKenzie 'dismayed' about transgender Kellie Maloney
Ukip's commonwealth spokesman has disclosed that he is "disillusioned" and "dismayed" about Kellie Maloney's sex change.
Winston McKenzie told IBTimes UK that he did not watch Maloney's speech at Ukip's spring conference in Margate.
But the former professional boxer and Ukip candidate said he could not "take it in" that Maloney now identifies as a woman.
"I'm disillusioned about that situation. Frank Maloney I know as a boxing promoter and I'm quite dismayed to see what's happened, but I wish him well. I really honestly, sincerely wish this guy well, who's now Kellie," McKenzie said.
"It's quite a shock really and I still can't take it in. This Frank Maloney was once of the most respected and clever boxing technicians in the country, if not in the world.
"I don't know what's happened in his life. But whatever he has chosen to do in his life, good luck to him."
But McKenzie also said that he "100%" echoed Nigel Farage's sentiment that "Ukip is open to everybody".
"You see it's no good being in a party and being at total odds with the leader. In this case, Ukip is heading toward real change," the Ukip candidate said.
The comments come after Maloney made an emotional addresses to the Ukip faithful in Kent.
The retired boxing promoter is probably best known for managing former world heavyweight boxing champion Lennox Lewis.
But the ex-Celebrity Big Brother contestant has also stood as London mayoral candidate for Ukip.
"I was never treated as the person I am, as a human being. As a woman who needed medical help to correct a gender issue I suffered from birth. I have come to understand and accept myself, with the support and love of my wonderful family," Maloney said.
"What does it mean to be a transsexual? It's a mismatch between one's body and brain."
"What do we feel? Frustration, not being able to be accepted or conform to society and fear of disappointing those that we love."
Maloney went to share stories of some other transgender people and explained the pressures they have to bear.
A purple Martin Luther King?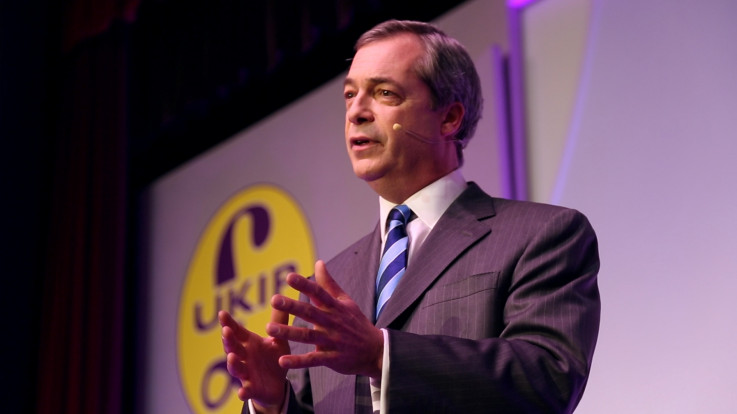 Nigel Farage spoke in Margate
IBTimes UK
McKenzie also compared Farage to US civil rights hero Martin Luther King in the interview with IBTimes UK.
He claimed that the Ukip leader had "stumbled on" some words from the Baptist minister that he "didn't even realise".
"I remember watching a documentary on MLK and he said, in that last potent film, 'it's been a long, hard road and my eyes have seen the Promised Land'. Farage recently said 'it's been a long, hard road' – same thing, really poignant."
"If you remember, recently he stated that maybe he's going to put his feet up and take it easy, he can't go on forever. Words like that are so poignant.
"That speech was so soulful and poignant and that's what drives people like me to stay on in politics and support Ukip."
The remarks come with 65 days to go before the general election in May, with Ukip on 14% in the latest opinion poll from YouGov.