Ukip's only MP has reportedly held talks with Conservative Party officials to sound out the prospect of rejoining the party.
Douglas Carswell defected from the Tories in 2014 to join the party, but could be returning after a row with former Ukip leader Nigel Farage.
Farage has called for the Clacton MP to quit the party after Carswell allegedly failed to support him in his bid for a knighthood.
The row escalated further on Tuesday (28 February) when major Ukip donor Arron Banks sent a series of tweets indicating he would challenge Carswell for the Clacton seat at the 2020 general election.
"We will have a high street shop in Clacton, [a] professional agent appointed soon and I will be rolling my sleeves up," Banks said.
Also on Tuesday, Farage – despite being educated at the prestigious Dulwich College and being a City banker – accused Carswell of being a "posh boy" who had tried to "sabotage" Ukip's Brexit efforts.
According to sources at the Telegraph, Carswell would be welcomed back to his old party and received a positive reception about the prospect of returning.
One Government source told the newspaper: "We talked about him coming back to rejoin the Conservatives at the next general election.
"Douglas has been voting with the Tories anyway and will continue to do so. He's the only Ukip MP in the House but he's basically counted as another Tory already."
A number of other Conservative MPs have reportedly had discussions with the Ukip MP about a possible return.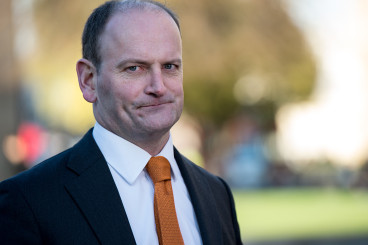 In spite of the reports, Carswell officially rejected the claims when asked to comment.
"I am 100 per cent Ukip and will be staying with Ukip," he said.
"But this is the first Brexit government in my lifetime and I am happy to help them get a good Brexit."
He also said that the people of Clacton were "electioned out" after a by-election, a general election and a referendum.
Carswell added: "I'm staying put. I need to make sure the government actually delivers on Brexit and I'm not going to take my foot off the pedal until Article 50 has been triggered."