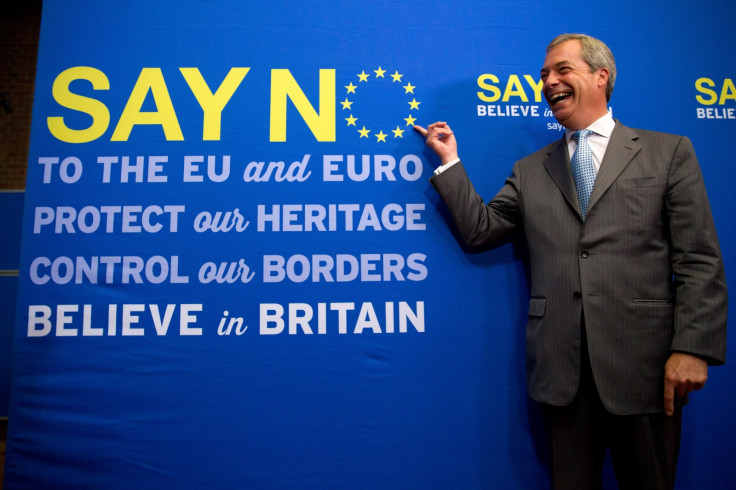 The hot issue of immigration will "dominate" debate in the run-up to the EU referendum, according to Nigel Farage. The Eurosceptic firebrand revealed that his party would work with "anybody" and do "whatever it takes" to try and win the historic vote on the UK's future.
The remarks came as the Ukip launched its "Say No to EU" campaign – which will hold 300 meetings, deliver six million leaflets employ 12 regional organisers across the country in a bid to woo voters – in London on 4 September.
"We are launching the biggest outreach programme in the history of the Eurosceptic movement," Farage said. Elsewhere, the Ukip leader said he would welcome a Jeremy Corbyn victory in the Labour leadership election.
The left-winger would introduce a debate inside the party over the EU, Farage claimed. The Eurosceptic explained that he did not agree with the 66 year old on almost all issues, but Farage said he echoed Corbyn's comments that the Greek government was treated badly by EU leaders during the country's debt crisis.
As for the picture of the drowned Syrian boy, Aylan Kurdi, and images of the Middle Eastern refugees attempting to reach Germany in Hungary, Farage said EU leaders "have to stop encouraging people" from travelling across the Mediterranean to reach Europe.
But he stressed that Ukip believes Britain has a "fine record" of helping people and refugees, and Farage claimed he was the first UK political leader to call on the government to take on more refugees from Syria.
Ukip and fellow Eurosceptics scored a minor victory this week when the Electoral Commission watchdog ruled that the government's proposed wording for the referendum ("Yes" or "No") gave a perception of bias, forcing David Cameron to change the answers to "Remain" and "Leave". On top of that, the prime minister also U-turned over the government's position on a "purdah" period in the run-up to the referendum.
Ministers had previously argued that it was important to put their "Remain" case forward to their public and use civil service resources to promote their position, but Cameron is now reportedly set to table an amendment to the government's EU referendum bill which will introduce a "purdah" period for the vote. There is currently no date for the referendum, but BBC's Newsnight claimed the vote could come as early as April 2016.