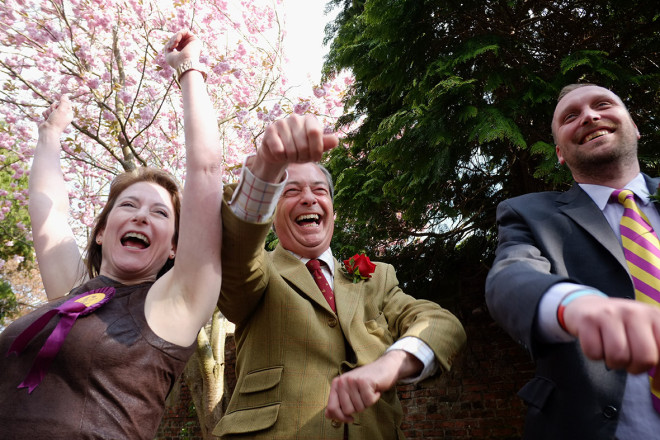 Ukip is on course to achieve "something spectacular" at upcoming elections with polling putting Nigel Farage's party in a commanding lead over the three main parties.
But one third of voters think Ukip is racist – despite repeated denials by the party's leadership, the figures show.
Farage, however, appeared to have been unaffected by recent controversies sparked by comments made by two of the party's candidates.
Ukip holds an 11-point lead over second place Labour in the poll by ComRes. The new figures mark an improvement in month-on-month approval ratings for Ukip of eight points, compared to March.
The polling, carried out in conjunction with ITV News, put Ukip on 38% with Labour on 27% and the Tories ahead of the Liberal Democrats on 18%, who trail on 8%.
Head of polling at ComRes Tom Mludzinski said: "Ukip look set to pull off something spectacular at next month's European elections."
But the fact that 32% of voters think Farage's party is anti-foreigner is a blow for Ukip, which suggests controversies involving disgraced candidates including William Henwood, who said comedian Lenny henry should move to a "black country", have made an impact.
A third of votes (33%) said Ukip was more honest than other political parties but 38% disagreed.