Prominent Tory Eurosceptic Peter Bone has backed Ukip leader Nigel Farage's demand to be included in TV debates between the major party leaders during the 2015 general election campaign.
In remarks that will further boost his reputation as a thorn in the side of Prime Minister David Cameron, Bone told IBTimes UK that it would be odd to hold the debates with two centre-left parties, but only one centre-right party.
Farage should be included in the debates, he said. He predicted the other leaders would then find themselves declaring "I agree with Nigel" on a series of issues in much the way Cameron and Labour's Gordon Brown competed to say they agreed with Clegg at the last election.
The call will irritate Cameron who has yet to agree to the debates but has been insistent that Farage should not be included on the grounds that only those in a position to be in government should be involved. Miliband and Clegg were both "relaxed" about Farage's possible involvement.
Bone also repeated his suggestion that there should be a pre-election deal between the Tories and Ukip which would then be "unstoppable" in the poll, even if that meant major compromises on both sides.
And he called on Cameron to bring forward a government Bill to guarantee an in-out referendum on the EU by 2017 if the current move is blocked in the Lords, as expected, and challenge Clegg to walk out of the coalition if he opposed it.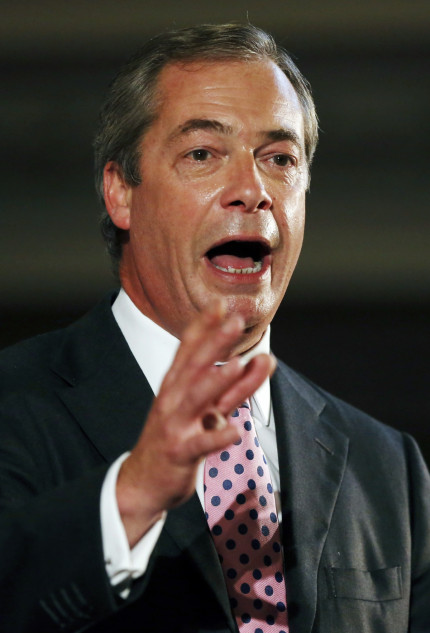 Bone, who has been a persistent critic of the coalition deal in the belief the LibDems are blocking core Tory policies, nonetheless claimed that Clegg had been "the cleverest of the leaders" and would enter the next election with a very strong negotiating hand in the event of another hung parliament.
The Wellingborough MP has become a prominent rebel in Westminster with his often humorous attacks on Nick Clegg and the coalition. He was a leading figure in the major revolt that saw 81 Tories defying Cameron last year and forcing the referendum promise from him.
But his outspokenness and willingness to defy his leader have infuriated many on his own side and he has even been accused of being part of the "Ukip wing of the Tory party".
Bone clearly has sympathy with Nigel Farage over his party's twin, inextricably linked policies of withdrawal from the EU and immigration control but insists he would never join Ukip, suggesting he is a traditional Tory proposing traditional Conservative policies.
Asked if he backed Farage's demand to be included in any election TV debates he said "Yes. Why would you have two centre-left and only one centre-right party taking part.
"I then think you would find a lot of people and leaders saying, as they did with Nick Clegg, 'I agree with Nigel'. Of course it didn't end up with the LibDems doing much better in the end.
"Roughly 48% of the electorate are ready to vote Tory or Ukip. If somehow you could get that united we would be unstoppable," he said. And he dismissed suggestions such a deal was a non-starter.
"I don't know. You would once have said the Tory Party was so committed against an EU referendum it wouldn't happen. But now you have got one.
"Does Farage want to be a bit part player in history or does he want to be a statesman? If a deal could be done, and it would take a lot of compromise by Farage and a lot of compromise from Cameron, the goal is there and you could have a huge centre right majority, perhaps with Farage in the Lords for example. It is not beyond the realms of possibility," he said.
And he warned Cameron that the planned election slogan that a vote for Ukip would let in Ed Miliband's Labour party at the election was a mistake.
"My experience on the doorstep is, if I say to a Tory voter if you vote Ukip you will get Ed Miliband, they say they don't care because they can't tell the difference between the two parties.
"There is this stupid idea going about that Ukip voters will go back to voting Tory, or LibDem or whatever at the general election. No. Ukip has become the anti-establishment vote just as the Liberals were and they are going to have a significant influence on British politics one way or another and we have got to recognise that point," he said.
He said Cameron should call out the other parties over the referendum if the current Bill laying plans for it after the election is blocked by the Lords by bringing it forward as a government Bill.
"This is one of the things that has been blocked by the LibDems in coalition. Cameron should introduce a government Bill for a referendum and it would be up to Labour and the LibDems to vote it down and show where they stand.
"It would then be up to Nick Clegg to decide whether he walks (out of the coalition). If he doesn't then people would know where he really stands, the same with Labour. But it is more likely he would not walk, they quite like the red boxes," he said.
Despite his opposition to the coalition, which he believes Cameron should not have entered but attempted to rule as a minority government instead, he said he believed Clegg had played the situation well.
"Nick Clegg may have ben the cleverest of the leaders. He has established that the LibDems can be a party of government and, if it is another coalition next time and the LibDems are in it, then he has proved his point.
"So I don't write Nick Clegg off as being stupid. He has been bold, played a very clever line and to a certain extent we have played along with it."