Ukraine: Chechen separatists fight Russian-backed rebels to 'end Putin's rule'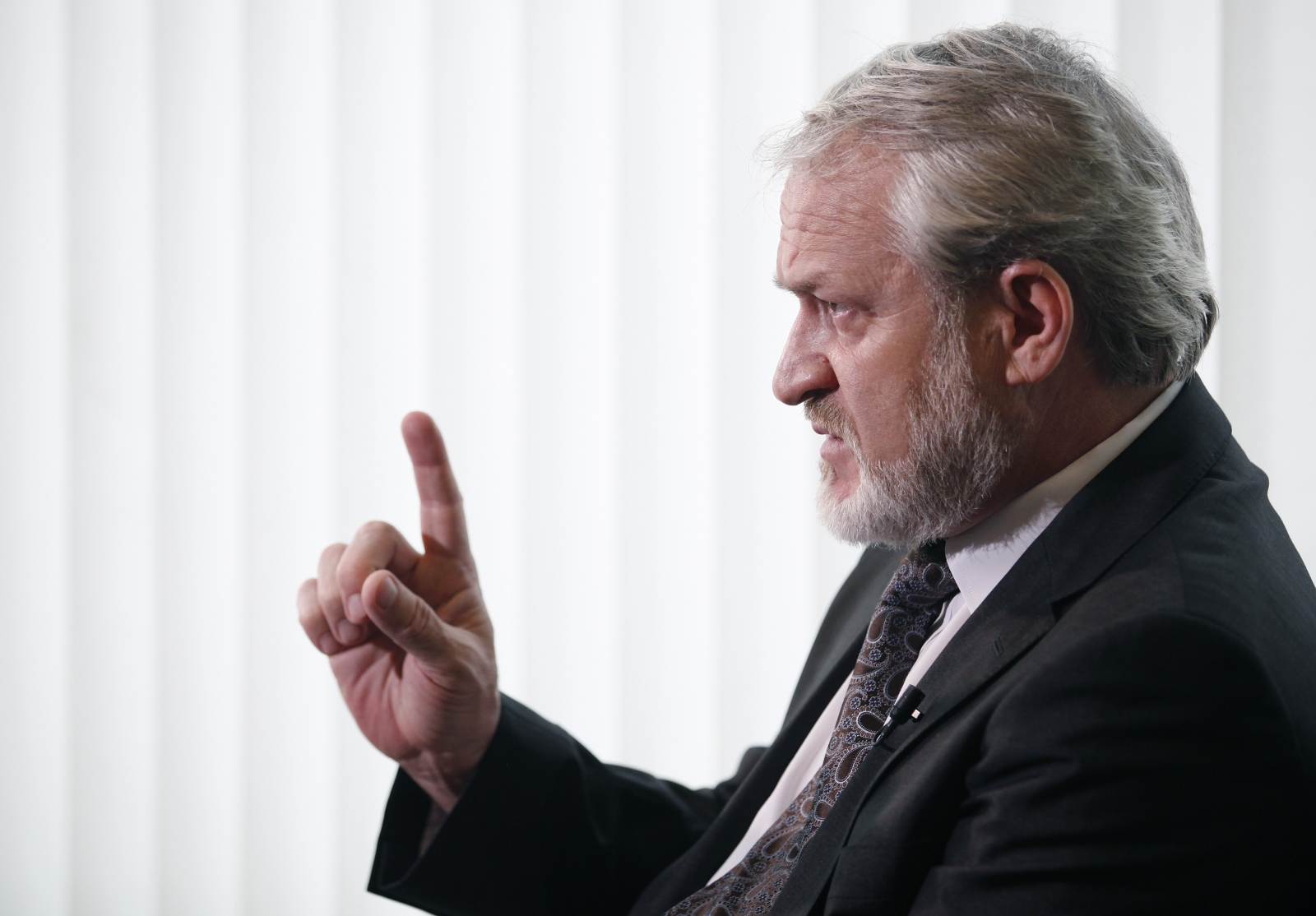 The war in Ukraine will mark the end of Vladimir Putin's rule, Chechnya exiled leader Akhmed Zakayev said, while confirming that veterans of the Chechen wars of independence are fighting alongside government troops in the restive eastern Ukrainian regions.
The 55-year-old dissident argued that the Russian president's power structure has been built on a series of conflicts, starting with the 1999 invasion of Chechnya, and will consequently collapse with a defeat in Ukraine.
"I am absolutely sure that Ukraine is the end of Putin. The more he gets involved in the fighting in Ukraine the nearer his political ends come," Zakayev told IBTimes UK.
"The 85% of [Russians] supporting Putin will go against him if he loses and the regime will crumble under its pressure."
A successful outcome for Kiev in the current crisis is fundamental for the future of Chechnya, as it would open the door for a return of the exiled moderate government Zakayev leads, he said. If Putin goes, Ramzan Kadyrov, Chechnya's Kremlin-backed current president, will follow, he explained.
"I don't consider him as an independent figure" he said, later describing the ruthless ruler, who has been accused of overseeing murders and torture by rights groups, as a "little monster born to a bigger monster".
A former actor who held a leading commanding role during the first Chechen war and received political asylum by Britain in 2003, Zakayev said a number of Chechens living in exile had joined fighting in eastern Ukraine.
He said the group was coordinating operations with Ukrainian forces and was in contact with him, although he denied it was an organised military wing of his exiled government. "They are volunteers," he said.
"Naturally I have contacts with some officials in Ukraine, we discuss the situation, I won't conceal that." Asked who funded the militia he replied: "Ukraine has finances".
He would not say how many Chechen fighters were supporting government troops. They are believed to be a few dozen.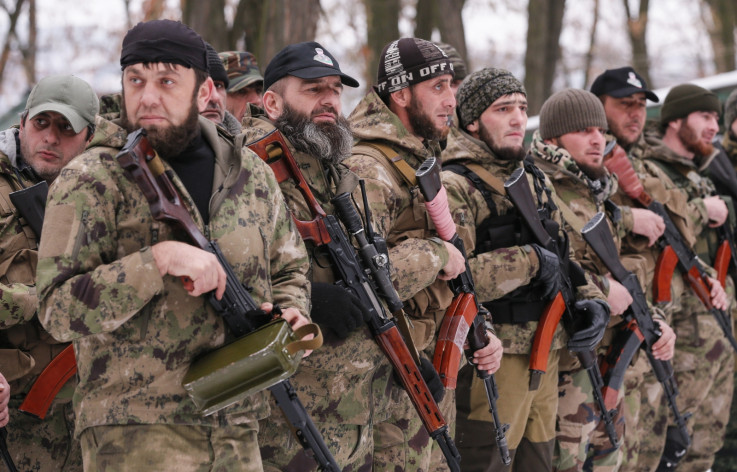 Pro-Russian separatists from the Chechen "Death" battalion stand in a line during a training exercise in the territory controlled by the self-proclaimed Donetsk People's Republic, eastern Ukraine
Reuters
Chechens have also been reported fighting on the other side of the conflict.
A 300-strong 'Death Battalion' has been supporting Russian-backed insurgents in the Donetsk region, according to Reuters. Zakayev dismissed them as "Russians" despite their ethnicity.
A close friend to murdered spy Alexander Litvinenko, Zakayev was speaking to IBTimes UK on the sidelines of a London event organised by the Henry Jackson Society, as German Chancellor Angela Merkel and French President Francois Hollande were due to travel to Moscow in a bid to push through a peace plan.
He seemed unconvinced of the Kremlin's commitment to a peaceful settlement.
"As long as Putin is there Russia will keep having wars with somebody or there will be terrorist attacks either in Russia or somewhere else," Zakayev said.
He alleged that the ongoing Islamist insurgency in Chechnya came about with the consent of the FSB, Putin and Russia's secret agency, as it allowed the Kremlin to portray Chechen separatism as a terrorist ploy.
He repeated accusations that the FSB were behind the 1999 apartment bombings in Russia that killed more than 300 people and eventually led to the second Chechen conflict. Moscow has always maintained Chechen separatists carried out the attacks.
"These are the methods that brought him to power and that keep up his ratings today - he can't give it up."
"The moment things got quieter in Chechnya by 2008, he started a war in Georgia. This was the way that brought him to his 3<sup>rd term," he said. "I am sure he will carry on with this conflict in Ukraine till the next presidential elections - if the West allows him."
Zakayev said he was optimistic about outcome of the eastern Ukrainian crisis as Western leaders have finally understood "who Putin really is".
The Baltic States and Poland's presence in the EU have helped Europe take a fundamentally stronger stance against Russia, he said. "They know very well that after Ukraine their time comes," he said.