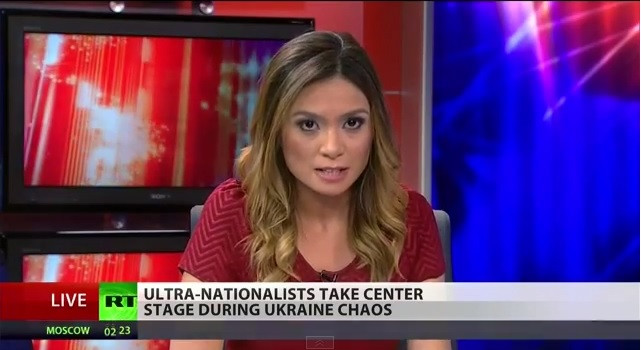 An American news anchor for Kremlin-funded network Russia Today has resigned live on air over her network's coverage of Vladimir Putin.
Liz Wahl, who was a correspondent at RT's Washington network, ended her segment by describing the "moral and ethical" challenges she faced.
She stated that her grandparents fled from Soviet forces during the Hungarian Revolution.
Her coup de grâce came when she said: "I cannot be part of a network funded by the Russian government that whitewashes the actions of Putin. I'm proud to be an American and believe in disseminating the truth, and that is why, after this newscast, I'm resigning"
In a statement RT condemned Wahl's decision to announce her resignation in front while camera's were rolling: "When a journalist disagrees with the editorial position of his or her organisation, the usual course of action is to address those grievances with the editor, and, if they cannot be resolved, to quit like a professional.
"But when someone makes a big public show of a personal decision, it is nothing more than a self-promotional stunt. We wish Liz the best of luck on her chosen path."
Wahl then countered back, telling the Daily Beast "It actually makes me feel sick that I worked there."
Wahl's announcement comes after another on-air act of defying the Kremlin-supporting editorial line.
On Monday, RT host Abby Martin ended her programme 'Breaking the Set' by denouncing Russia's military intervention.
But while her off-script comments went against the official RT line, she is still working at the network.