Hundreds of explosions have been recorded since the early hours of Tuesday 14 April in eastern Ukraine, despite renewed diplomatic efforts to enforce a truce deal between government troops and pro-Russian rebels.
Fighting in the region had largely dwindled following the Minsk ceasefire accord signed in February, but surged again on Tuesday despite an agreement reached by the Ukrainian and Russian foreign ministers a day earlier.
"Our monitors have seen intensive fighting and over a six-hour period yesterday, the monitors recorded more than 700 explosions around Donetsk airport and in Shyrokyne – which is near Mariupol," spokesperson for the Special Monitoring Mission to Ukraine of the Organisation for Security and Cooperation in Europe (OSCE) Michael Bociurkiw told IBTimes UK.
Heavy weaponry despite truce
A portion of that fighting has involved heavy weaponry including tanks in the zone, which should have been pulled back by now in accordance with the second agreement signed on 13 April.
"These truce violations also mean an increase in casualties on the civilian side, and make it more difficult for humanitarian aid to get in," Bociurkiw said.
There was a close call on Tuesday when a Russian journalist was severely injured after stepping on a land mine near Shyrokyne, and the OSCE confirms there have been reported civilian casualties over the weekend.
While the spokesperson could not provide exact figures, he also stated no further casualties had been recorded since Tuesday.
Humanitarian situation becoming "extremely dire"
Along with the ceasefire violations, access to the conflict zones has been increasingly restricted by pro-Russian rebels.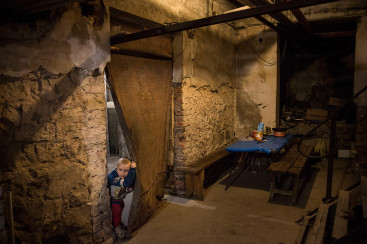 "We are continuing to encounter access problems in Donetsk and Luhansk on both sides. Over the weekend our monitors were allowed into Shyrokyne by the rebels only 200m into the city before being turned back," Bociurkiw explained, stating this was a big concern for the OSCE.
Speaking from Kiev, Bociurkiw added the upsurge in violence also means the humanitarian situation in the most heavily shelled areas, such as Shyrokyne, is becoming "extremely dire".
"People – most of them elderly – are hiding in their basement. They have no drinking water, they have no power, there is no medicine, their food stocks are very low and they are down to just eating porridge and fish."