If you think the crisis in the Ukraine is limited just to being on the ground, think again. A cyberwar is flaring up between Ukraine and Russia and it looks like this is only the beginning.
The first blow came on 28 February when a group of unidentified men took control of several communications centres in Crimea, which are maintained by Ukraine's telecom provider Ukrtelecom JSC. They wrecked cables and knocked out almost all landline, mobile and internet services in the region.
It is now believed that the communications centres were attacked so that wireless equipment could be illegally installed in order to spy on the mobile phones of Ukrainian MPs.
"I confirm that an IP-telephonic attack is under way on mobile phones of members of Ukrainian parliament for the second day in row," Valentyn Nalivaichenko, the head of SBU, Ukraine's' security service, said.
"At the entrance to [telecoms firm] Ukrtelecom in Crimea, illegally and in violation of all commercial contracts, was installed equipment that blocks my phone as well as the phones of other deputies, regardless of their political affiliation," he said.
Ukrainian hackers or sympathisers have been getting busy themselves, hacking the website of Russian state-funded news channel RT on Sunday and changing all references to "Russia" and "Russians" in headlines to "Nazi" and "Nazis". The attack lasted only 20 minutes and the RT was quick to respond.
Cyber-Berkut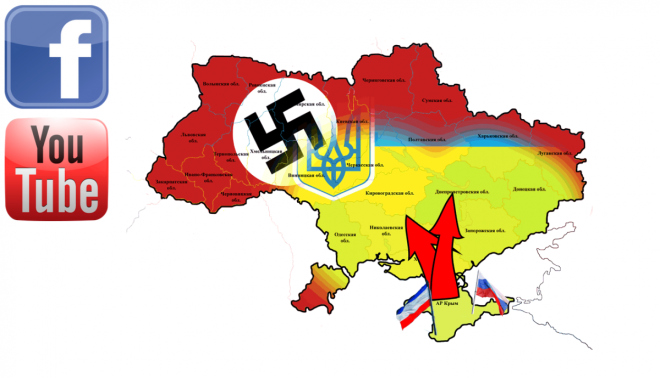 A group of hackers in Ukraine who call themselves "Cyber-Berkut" have boasted about defacing at least 40 Russian news websites on their Facebook page with the image above, which shows a Nazi Swastika over Crimea.
A post on the page (translated from Russian) warns: "Today, the "KiberBerkut" countdown begins. Traitors of Ukraine who have transgressed the laws of our homeland, you have nine days to voluntarily surrender to the prosecuting authorities or the Kharkov Simferopol."
The post states that the "imposters", presumably the Russians, "have no right" to control Ukraine and must surrender to Ukraine.
Censoring pro-Ukraine content
On the Russian social network Vkontakte, 13 community groups set up in support of the new interim government in Kiev have had access to Russian IP addresses blocked. According to Moscow-based news website Lenta, a page appears when users try to access the groups, stating that the groups have been locked down by "the Russian Federation".
A press spokesperson for Vkontakte said that the blocking lasted only a few minutes and was due to an error made by moderators but the Federal Service for the Supervision of Communications, known as the Roskomnadzor, said it would continue to block Ukrainian community groups and any other IP addresses that might be displaying "extremist content".
While this is the extent of the cyber-attacks that we have learned of so far, the worry is that Russia could expand its military activity to include distributed-denial-of-service (DDoS) attacks to bring down crucial Ukrainian servers, the way they have done during other conflicts.
In April 2007, Russian hackers from Nashi, Vladimir Putin's political youth movement, targeted the websites of Estonia's parliament, banks, ministries, newspapers and broadcasters amid a diplomatic row with Russia.
During the 2008 South Ossetia war with Georgia, DDoS attacks were used to bring down numerous South Ossetian, Georgian, and Azerbaijani organisations.