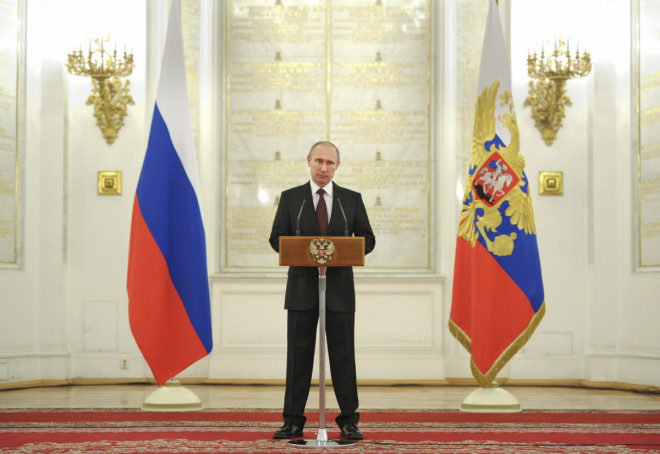 Russian President Vladimir Putin has claimed that allegations of Russian military intervention in eastern Ukraine are "total nonsense", in a state-television interview.
In his annual televised question and answer session on Russia Today, the Russian leader spoke about the crisis in Ukraine, blaming the unrest on the Kiev government and Ukrainian locals.
"They are locals who are involved there. Those from Kiev do not talk to the people in the East of Ukraine. A solution can be found only through a proper dialogue," Putin said.
"People in the East of Ukraine started arming themselves. Instead of finding a diplomatic solution, Kiev decided to use force," he continued.
He also spoke of the reunification of the Crimea region, claiming that the controversial referendum was not engineered by Moscow in advance but was based on the Crimean population's wishes.
"Russia never planned any military action or annexation in Crimea. Nothing in Crimea was thought of in advance. Everything happened as it went.
"But when threats to Russians in Crimea became real, when they asked for help, that's when we started thinking of helping them."
He said that the threat to Russian-speakers in Crimea was "real and palpable" but, without Crimeans voicing their opinions, "all this would have been impossible".
"When turnout at referendum exceeded 80 percent - which is a vast majority of its population - we knew we couldn't have acted otherwise," he stated.
Regarding Russia's relations with Ukraine, Putin spoke of the two countries' close links despite months of tensions between Kiev and Moscow.
"Ukraine will always be Russia's close neighbour. We are connected by a lot of common interests and if you want to be successful you have to cooperate and be together. This understanding will come."