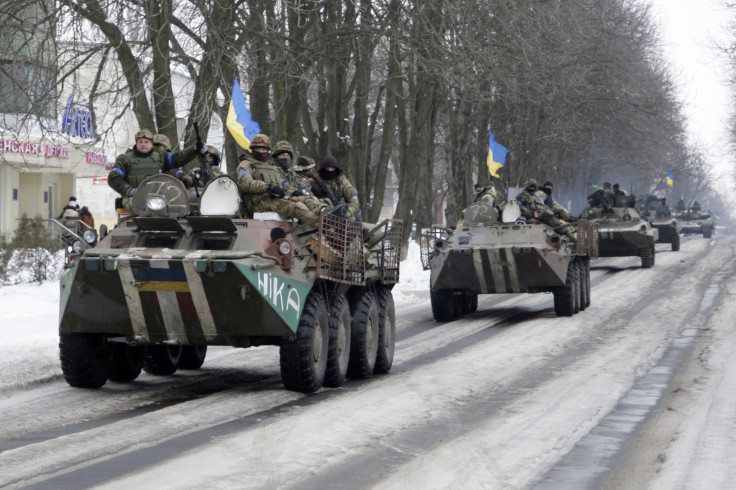 Russia has called for the withdrawal of heavy weapons from the frontline in eastern Ukraine to ease a peace process, as Kiev accused Moscow of actually boosting its military presence in the area.
Meanwhile Ukrainian Prime Minister Arseny Yatseniuk announced the government was preparing a bill to enlarge its military forces, enlisting 68,000 new personnel.
Russian Foreign Minister Sergey Lavrov said pulling back artillery from the conflict area would soothe violence that re-escalated in the last week.
"We need to fulfil the main goal: protect the civilian population," Lavrov said, speaking ahead of talks with diplomats from Ukraine, France and Germany in Berlin.
His appeal came as Ukrainian officials claimed Russia was increasing its military presence in support of separatist rebels.
"A significant number of Russian soldiers without identifiable insignia have been spotted in Luhansk region," military spokesman Andriy Lysenko said, Reuters reported.
"There is continued mass shelling of positions and a desire by rebels to expand the territory under their control."
Fighting between Kiev forces and the insurgents flared up over the last few days in the separatist regions of Donetsk and Luhansk.
Lysenko said that a Ukrainian soldier was killed and 40 wounded in the past 24 hours. More than 4,700 people have died because of the conflict since April last year.
The Ukrainian military claimed that Russian troops were directly involved in attacks against two checkpoints near Luhansk.
Russia has long denied it actively supports the separatists, despite evidence suggesting the contrary.