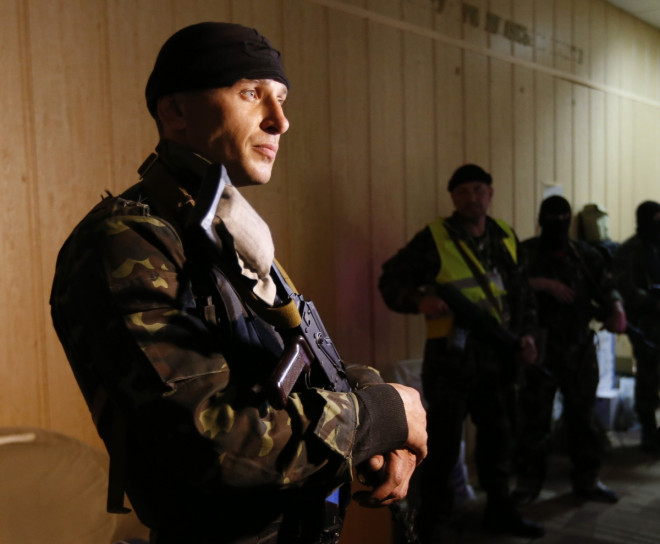 Russia's military attaché to Kiev has been detained for conducting "intelligence activities" and ordered to the leave the country, according to Interfax news agency.
The arrest comes as the interim Ukrainian government continues to battle pro-Russian unrest in the country's east before the upcoming presidential election.
The unnamed diplomat has been ordered to leave the country by the Ukrainian Foreign Ministry, according to the news agency.
"The military-naval attaché of the embassy of the Russian Federation in Ukraine is declared persona non grata in connection with his actions, which are not in accordance with his diplomatic status," the ministry was quoted as saying.
A Ukrainian foreign ministry spokesman confirmed that the diplomat had been declared "persona non grata".
Russia has denied any involvement in the pro-Russian protests in eastern Ukraine, which have seen government buildings captured in Donetsk, Slaviansk and Luhansk.
Separatists have declared a "People's Republic of Donetsk" in the region and called for a referendum similar to the recent vote which saw the annexation of the autonomous Crimea region to Russia.
A team of eight Organisation for Security and Co-operation in Europe (OSCE) inspectors were kidnapped last week by the separatists, leaving the German Bundestag deputy, Florian Hahn, to call for KSK German Special Forces to be sent to eastern Ukraine to free the German nationals.
The attempted murder of Gennady Kernes, the mayor of Donetsk, has added to fears that the region is becoming increasingly unstable and leaving the Ukrainian leadership powerless to prevent the chaos.
However, the International Monetary Fund (IMF) has approved a $17.1bn (£10.1bn) loan for Ukraine's damaged economy.
Russia currently has 40,000 troops stationed on the shared Ukrainian border and Russian leaders have said that they will intervene in eastern Ukraine if Russian speakers are threatened in any way.
For failing to abide by the Geneva agreement signed last month, Russia has had more sanctions placed on influential individuals by the United States and the European Union. The sanctions include travel bans and asset freezes.