Russian President Vladimir Putin has told German Chancellor Angela Merkel that the Crimea breakaway referendum currently underway is "legal".
The Kremlin said in a statement that the Russian leader maintained that the will of Crimea's population is being implemented "in full compliance with international law".
Putin's comments come after Russia vetoed a draft UN resolution criticising Sunday's referendum, which asks Crimeans if they want to re-join Russia. A second question asks whether Ukraine should return to its status under the 1992 constitution.
Voting across Crimea started at 8am local time (6am GMT) on Sunday and will close at 8pm. There are reports of a high turnout at polling stations in Crimea's capital Simferopol and Bakhchisaray.
Election official Mykhaylo Malyshev said there has been a "record-breaking turnout of 44.27% after six hours of voting". Observers expect voters overwhelmingly to support leaving Ukraine, although the Tartar Muslim minority community said it would boycott the vote.
According to a poll by German research group GfK, 70% of Crimeans who want to take part in the referendum plan to vote to join Russia, while 11% want to remain part of Ukraine.
Ethnic Russians make up a clear majority in Crimea (58.5%), and around 1.5m voters are eligible to cast their ballots. The first results are expected to be released shortly after the referendum.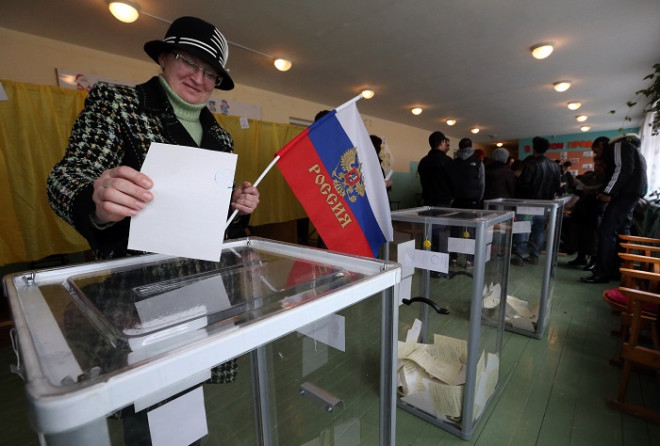 Casting his ballot, Crimea's pro-Russian Prime Minister Sergei Aksyonov said the vote was progressing well.
"As you can see, people are voting freely," he told the Interfax news agency. "There are no problems at polling stations. I don't feel or see that any pressure is being applied."
The state news agency reported that more than 1,000 people are at a pro-Russian rally in Donetsk and several cars are driving around the city with signs reading "referendum".
The city of Saint Petersburg closed down its main street for a car rally organised by conservative parties in support of the Crimean referendum, while in Moscow, at least 10,000 people took part in an anti-intervention rally on Saturday.
Kiev accused Russian forces of seizing a village north of Crimea and demanded their withdrawal. Ukraine's foreign ministry said 80 military personnel supported by four helicopter gunships and three armoured vehicles captured the village of Strilkove.
On Sunday, Kiev and Russia agreed on a truce in Crimea until 21 March. Ukraine's acting defence minister Ihor Tenyukh told reporters: "No measures will be taken against our military facilities in Crimea during that time. Our military sites are therefore proceeding with a replenishment of reserves."