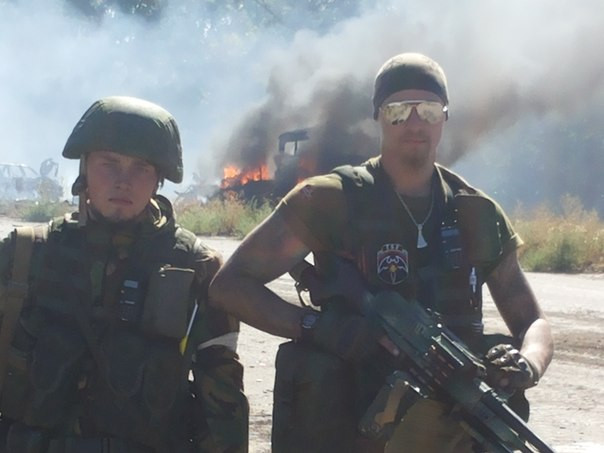 A Russian separatist fighter has posted scores of pictures from the war-devastated eastern Ukraine online, one of which appears to show him posing beside the charred corpse of an enemy combatant.
The pictures appear on the Russian version of Facebook, VKontakte, on the page of Aleksey Yuryevich.
One shows him posing next to a corpse in front of a burning vehicle giving the thumbs up, whilst in another he makes an obscene gesture while a military vehicle, presumably belonging to enemy combatants, burns in a forest.
Charred corpses lie around a burnt out remains of a military vehicle in an urban area in another, while one shows the dead body of a young man lying on a pavement with horrific head wounds.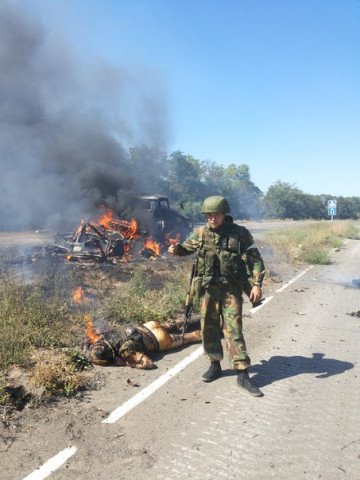 Yuryevich's photos also feature Serbian war criminal Željko Ražnatović holding a tiger cub, and portraits of Russian nationalist military figures, including General Nikolai Yevdokimov, who was responsible for the mass deportation of ethnic Circassians from the Caucasus in the 1860s.
In an email exchange with Vocativ, Yuryevich proclaimed, "I'm am here until victory or death", and said that he had been smuggled over the border in a humanitarian aid truck.
Russian militants have used social media to spread propaganda and boast of their exploits.
However, their efforts have often backfired, as posts on militants claimed responsibility for bringing down Malaysian Airlines flight MH17 hours before before it was known that the plane was a civilian aircraft.
Ukraine's military has accused Russia of using the trucks to smuggle military supplies to separatist groups, who have been battling Ukrainian forces in eastern Ukraine.
In August, Russia claims to have delivered 2,000 tons of aid into eastern Ukraine, including food, water, and medical supplies.
Ukrainian military spokesman Andriy Lysenko said that one convoy in late August had smuggled in firearms and radar systems from Luhansk and Topaz.
Nato's commander Philip Breedlove also questioned whether the trucks were only being used to transport humanitarian aid.
Separatist attempts to establish autonomous 'republics' in eastern Ukraine have inched closer to success, as in the hopes of establishing peace the Ukrainian parliament voted this week to give rebel-controlled areas powers to hold their own elections and form their own police forces.