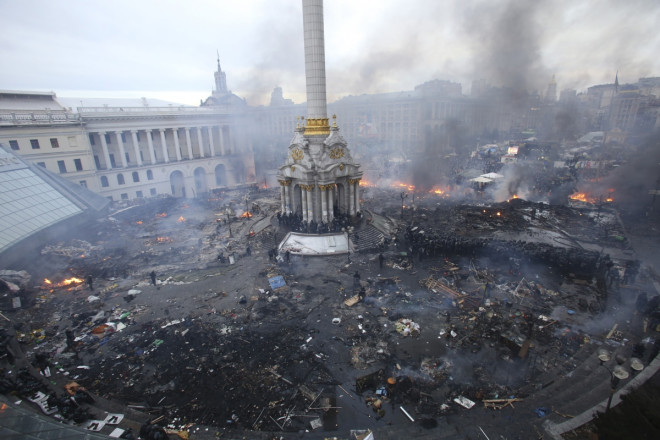 Standard & Poor's rating agency has slashed the Ukraine's sovereign credit rating to triple C following the deterioration of the political situation and the risk of civil war.
In a statement, S&P said that it had to cut Ukraine's credit rating to near default levels, despite downgrading the country on 28 January this year, as a civil war and a break-up of the country now looks increasingly likely.
"In our view, the political situation in Ukraine has deteriorated substantially," said S&P analysts in a note.
"We believe that this puts the government's capability to meet debt service at increasing risk and raises uncertainty regarding the continued provision of Russian financial support over the course of 2014."
S&P is latest out of the big three credit-rating firms to downgrade Ukraine's debt this year.
Ukrainian President Viktor Yanukovich said on 21 February that the country has reached a deal with pro-European opposition leaders.
Meanwhile, anti-government protesters in the Ukrainian capital Kiev have taken dozens of poorly-armed security personnel as hostages demanding that Yanukovych's administration take immediate steps to ease the situation.
Most of the police officers captured by the protesters were brought from other parts of Ukraine such as Dnipropetrovsk, Kryvyi Rih, Crimea and Luhansk to assist the security forces deployed in Kiev.
At least 60 personnel, both veterans and newly recruited men, are believed to have been detained by the demonstrators. The men are currently being held in the government-owned Energy Company of Ukraine building, near the Kiev City Hall.
So far, 75 people have been killed in the riots and S&P says that the rising death toll and escalating violence could hinder Ukraine's prospects of continued Russian support.
"Should Russian financial support fall short of Russia's commitments, we expect the government of Ukraine to default on its foreign-currency obligations," said analysts.
"The negative outlook reflects our view that the Ukrainian government has yet to secure sufficient external funding to avoid a selective default or distressed exchange."