Ukraine Crisis: UN-Marked Combat Helicopters Used in Government Offensive against Separatists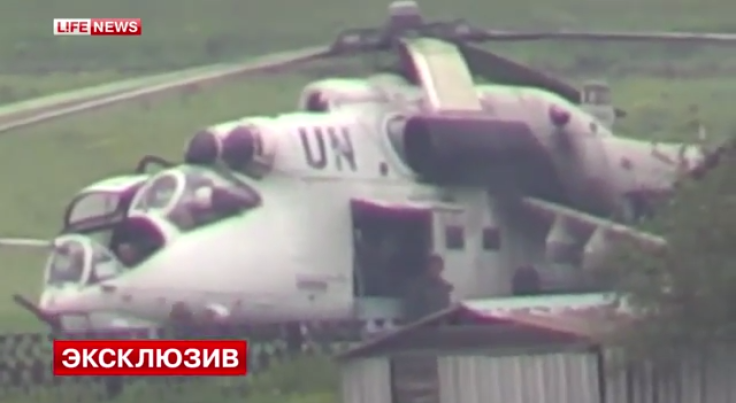 Footage has emerged of a white UN-marked Mil Mi-24 helicopter allegedly being used in Ukraine's anti-terror operation against pro-Russian separatists near the Donestsk Oblast city of Kramatorsk.
Three further combat Mi-24 helicopters and one transport Mi-8 helicopter bearing the UN logo were spotted in the region by the Russian news outlet Life News.
The UN has distanced itself from the footage below, stating that, as Ukraine is a contributor to the organisation's forces, it must remove any UN insignia when the materials are returned.
A spokesperson for UN Secretary-General Ban Ki-moon said that any use of peacekeeping equipment, bearing the name of the UN, for non-peacekeeping purposes would contravene UN rules.
"It is the responsibility of Troop Contributing Countries (TCCs) that provide Contingent Owned Equipment to peacekeeping missions to remove all logos and signage bearing the UN's name once such equipment has been repatriated to the home country or is no longer being used for official UN purposes," Ban's office said in reaction to the footage.
The office made it clear that UN-marked equipment could only be used in UN-tasked operations. Kiev's offensive against pro-Russian separatists was not sanctioned by the organisation.
The footage of the helicopter and its location could not be immediately verified. Both news outlets, Life News and Russia Today, are faithful to the Kremlin and Life News has been accused of fakery over a story alleging Right Sector leader Dmitry Yarosh's business card was recovered from a car used in an attack in Sloviansk.
The UN's Departments of Peacekeeping Operations and Field Support is liasing with Ukrainian authorities to clarify the situation, according to Russia Today.
Ukraine has offered its resources to the UN in numerous peacekeeping missions around the world, for example in DR Congo, Cyprus, Kosovo, Liberia, Sudan, Timor-Leste and the Ivory Coast.
Kiev is to host round-table talks between interim government and regional leaders in search of a settlement to the continuing crisis in the country's east, which saw seven Ukrainian soldiers killed by pro-Russian rebels this week.
© Copyright IBTimes 2023. All rights reserved.