Ukraine is gearing up for a full-fledged war alongside the diplomatic efforts to end the conflict with pro-Russian separatists.
Amidst the ongoing peace talks in Berlin and scheduled consultations in Kazakhstan next week, Kiev is bolstering its military might.
Ukraine President Petro Poroshenko, the supreme commander of the armed forces, himself handed over fighter jets, howitzers and other sophisticated weapons during a visit.
"How did we use the time of ceasefire regime? While there were no active hostilities, we have fully restored the combat capability of our units. Because as of September 5, 2014 we had 20% of the ammunition reserve left, while today we have 100% - we have something to defend ourselves with," Poroshenko told reporters during a visit to the military installation in Oziorne, located near Zhytomyr.
"This is how we are using this so-called ceasefire."
"I am convinced that 2015 will be the year of our victory. In order to achieve that, we need a strong, patriotic, and well-equipped army."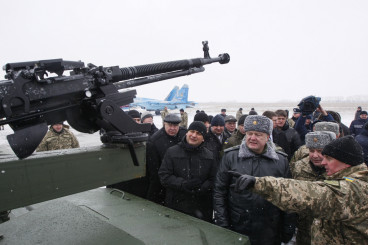 He said the number of casualties on the Ukrainian side has dropped drastically since the ceasefire.
Awards and certificates were also given to military personnel during the occasion.
The delivery of such weapons to the armed forces violates the Minsk agreement among the multiple parties involved in the unrest.
Poroshenko is set to meet his Russian counterpart Vladimir Putin in Kazakhstan on 15 January at which leaders of France and Germany will also be present.