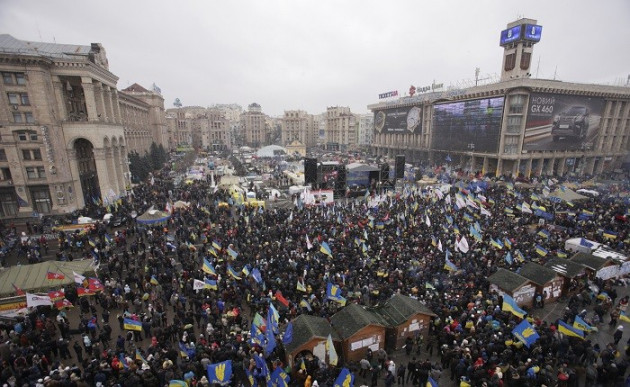 One million protesters are expected to descend on Kiev's Independence Square on Sunday, as demonstrations against Ukraine's embattled president Viktor Yanukovych continue to escalate.
Opposition figures are planning for Ukraine's biggest demonstration in almost 10 years, and protesters have built barricades across the roads that lead to the square and festooned them with Ukrainian flags and caricatures of the president whose refusal to sign an EU free trade deal has sparked the protests.
Protests against Yanukovych's decision to pull out of the landmark EU association pact have been taking place for two weeks.
Last Sunday, hundreds of thousands of people demonstrated in Kiev in the largest protests that in Ukraine since 2004's Orange Revolution, which ousted Yanukovych from power.
The demonstrations began to dwindle last weekend when riot police moved in, in the early hours of Saturday morning. The strong police response has proved counter-productive, bringing hundreds of thousands of protesters back on the streets to demonstrate.
Opposition against Yanukovych has intensified since he met Russian president Vladimir Putin at the Black Sea resort of Sochi on Friday to discuss a strategic partnership.
On Saturday, former Georgian president Mikheil Saakashvili showed his solidarity with protesters in a speech to demonstrators in Kiev.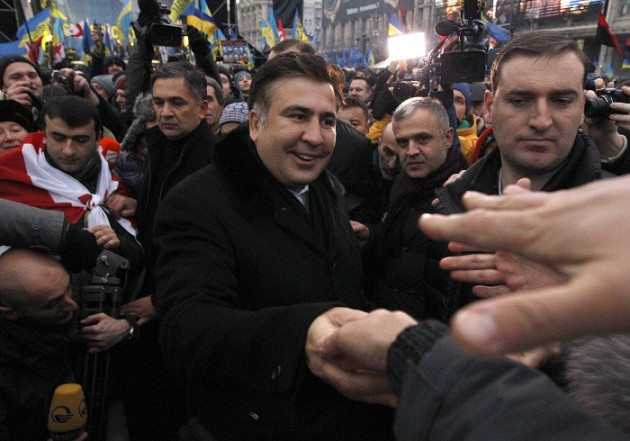 "Ukrainian triumph will put an end to the Vladimir Putin era and it will start here, on this very square," he said.
"The success of freedom in Ukraine is the success of freedom in Georgia, Moldova, in all the Eastern Partnership countries and beyond.
"It will make Russia abdicate its imperialism and it will in the end turn Russia into a nation state - a state that has borders and not margins, partners and not slaves."
The daughter of jailed opposition leader Yulia Tymoshenko - a leading figure in the 2004 Orange Revolution - also called on Ukraine to unite in opposition to Yanukovych.
Speaking to Sky News, Eugenia Tymoshenko said her fellow Ukrainians need to "stand strong" in their pro-EU demonstrations.
"No government can stand up to the people's power; my mother really believes in the power of people," she said.
"We believe in our victory. People here are tired of three years of repressions introduced by Yanukovich. We have to win this."
Yulia Tymoshenko is currently being held in a prison hospital where she is on hunger strike in solidarity with protesters. Critics of Yanukovych accuse the government of holding Tymoshenko as a political prisoner.