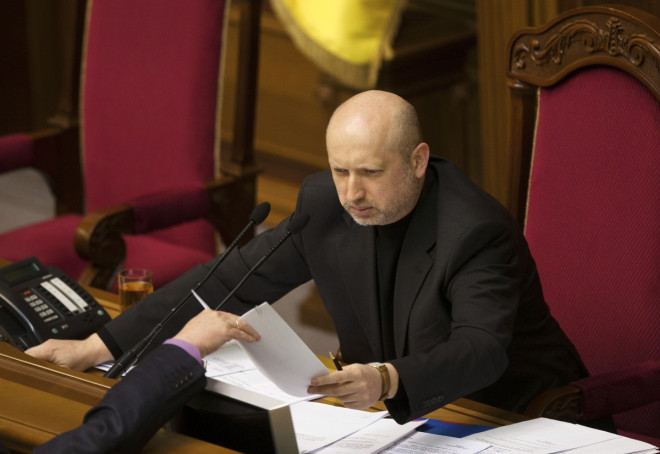 The Ukrainian parliament has appointed its new speaker Oleksander Turchinov as acting head of state.
He replaces Viktor Yanukovich and will work to form a new government, according to Reuters. Turchinov has called on deputies to agree on the formation of a national unity government by Tuesday. "This is a priority task," he told the chamber. A presidential election has been called for 25 May.
The new speaker is a close ally of Yulia Tymoshenko, who was freed from prison on Saturday after parliament voted for her immediate release.
The freed former prime minister said she has no interest in being prime minister again.
In response to reports that her name was being mentioned as a possible candidate, she issued a statement reading: "No one has agreed or discussed this with me.
"Thank you for your respect but I would like you not to consider my nomination for the post of the head of government."
Ousted president Yanukovich denounced what he called a "coup d'etat" reminiscent of Nazi Germany. He spoke on television on Saturday from what looked like a hotel room in a city close to the Russian border.
"Everything happening today can primarily be described as vandalism, banditry and a coup d'etat. That is my assessment," Yanukovich said.
Border police were reported to have blocked Yanukovich from flying to Russia on Saturday evening after he appeared on television, apparently from the east of the country where he has enjoyed loyal support. He said he would not leave the country and that he had no intention of resigning.
With pro-EU protesters still controlling central Kiev, and crowds on the streets in other towns and cities, parliament is under pressure to demonstrate its authority across the nation and to calm fears of a split with pro-Russian regional leaders in the fallen president's eastern political base.
"In these days the most important thing is to form a functioning government," said Vitaly Klitschko, a former world boxing champion and a leading figure in the uprising.
"We have to take very important steps in order to ensure the survival of the economy, which is in a very bad shape," he told a news conference. He denied there had been a coup.
"Parliament is the last legal official institution in Ukraine," he said. "Nobody knows where the president of Ukraine is. We tried to find him all day yesterday. His location is unknown. He left the country without a president."