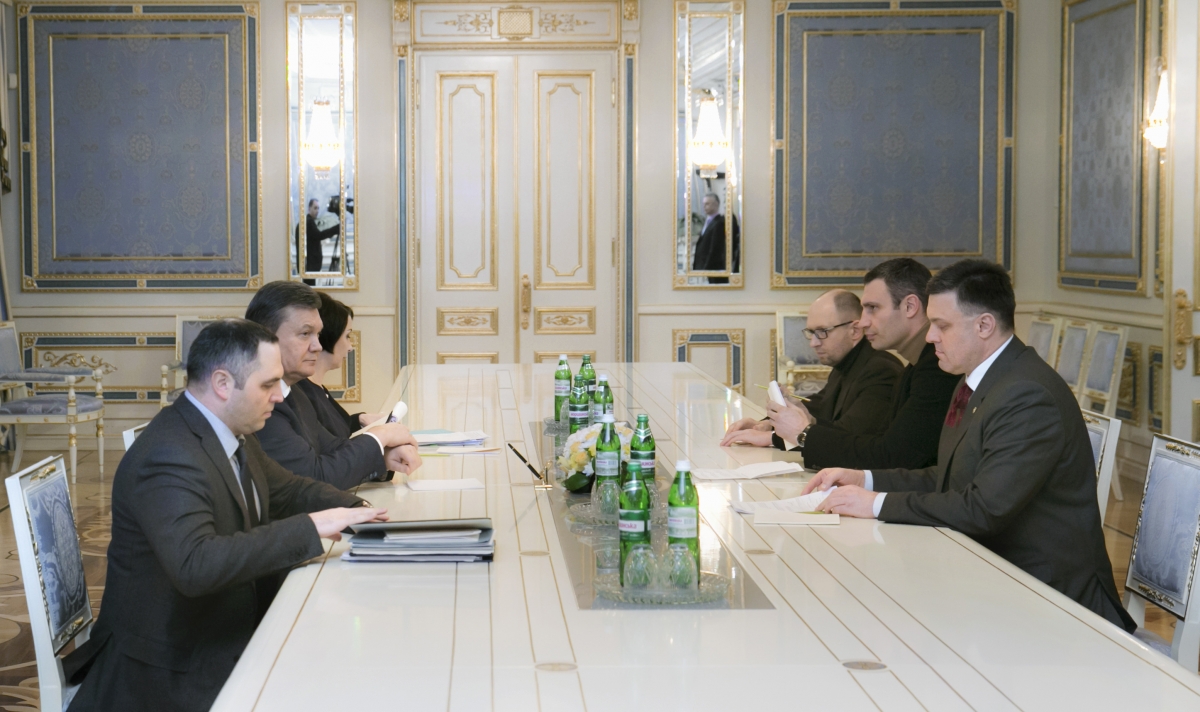 Ukrainian President Viktor Yanukovych has agreed to scrap the country's controversial anti-protest law as part of the latest concessions offered to opposition groups which have been staging demonstrations for the past two months in the capital Kiev.
After a round of talks between Yanukovych and other opposition leaders, including Arseniy Yatsenyuk, who was offered the prime ministerial post, the president consented to do away with the draconian legislation aimed at cracking down on protests.
Former boxing champion and key opposition leader, Vitaly Klitschko, and nationalist leader Oleg Tyagnybok were also present during the discussions.
According to a statement on the presidential website, Justice Minister Elena Lukash announced: "A political decision has been made to abolish the laws adopted on January 16 that caused multiple discussions.
"The parties have discussed joint participation in the Constitutional reform and obligatory cooperation in that context with the European institutions. Also, the issue of referendum procedures has been touched upon."
It is unclear whether the repealing of the legislation will be backed by the Ukrainian MPs at a special parliament session starting soon.
The anti-protest law was introduced amid demonstrations in Kiev, which remained largely peaceful. Later, the protests turned violent and the last few days have witnessed clashes between demonstrators and security personnel, claiming at least three lives.
During the talks, Yatsenyuk had rejected Yanukovych's offer of the prime ministerial post.
The government and opposition have also agreed an amnesty for the arrested activists, provided the protesters leave the occupied government buildings and clear the barricades erected in Kiev.
However the opposition groups have insisted the rallies will not be stopped, repeating their demand that Yanukovych resign. Negotiations between the two sides are set to continue.
Diplomatic Moves
Amidst the continuing volatile situation, the EU's foreign policy chief, Catherine Ashton, is arriving in Kiev in a bid to defuse the tension.
She is areportedly alarmed at reports that the government could impose a state of emergency. These reports have since been discounted by the Ukrainian authorities.
The US also warned Yanukovych against resorting to harsher methods to quell the protests.
Vice President Joe Biden said: "Declaring a state of emergency or enacting other harsh security measures would further inflame the situation and close the space for a peaceful resolution," according to a White House statement..
The current wave of protests began following Ukraine's failure to reach an agreement on integrating the country with the EU. Yanukovych reportedly dumped the deal under Russian pressure.
Russian President Vladmir Putin is also due in Brussels for a summit meeting with the EU and is expected to discuss the chaos in Ukraine.