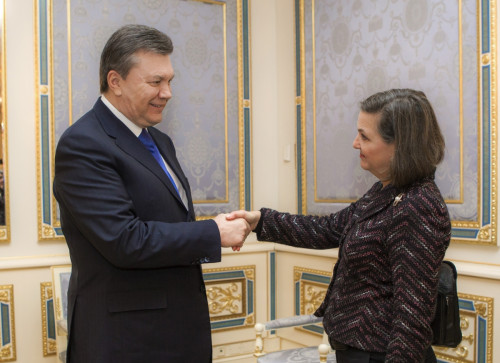 A senior US State Department official said "F**k the EU" during a conversation with the American ambassador to Ukraine over the ongoing crisis in the country.
Victoria Nuland made the remarks during a telephone conversation with senior US diplomat Geoffrey Pyatt, which was bugged and subsequently uploaded on YouTube.
A clip of the conversation is available here.
The remarks have provoked sharp criticism from the Russians and the Chinese alike over US interference in Ukraine.
The female voice in the conversation says the UN is planning to appoint Robert Serry, former Dutch ambassador to Kiev, as its representative to Ukraine to ease the tensions.
"That would be great I think to help glue this thing [the reconciliation process] and have the UN glue it and you know, f**k the EU," says the voice.
The male voice, apparently Pyatt's, replies: "We've got to do something to make it stick together, because you can be pretty sure that if it does start to gain altitude the Russians will be working behind the scenes to try to torpedo it."
Following the revelations, the US State Department has said Nuland apologised for the disparaging remarks.
Spokesperson Jen Psaki said Nuland "has been in contact with her EU counterparts and, of course, has apologised".
When asked about the authenticity of the leak, Psaki said: "I did not say it was not authentic."
Blaming Russia for the leak, Psaki said: "Certainly we think this is a new low in Russian tradecraft. Obviously they were the first ones to post on Twitter about it, which is an indication."
Russia has condemned the US meddling in Ukraine's internal affairs. After a meeting between Russian President Vladimir Putin and his Chinese counterpart Xi Jinping, Putin's spokesperson Dmitry Peskov told reporters: "Both parties have emphasised the unacceptability of any interference from the outside in what is happening and a very serious condemnation of such interference has been voiced."
"The sides aired much criticism of outside interference."