Ukraine Separatists Claim Victory in Referendum; Kiev Says Vote a Criminal Farce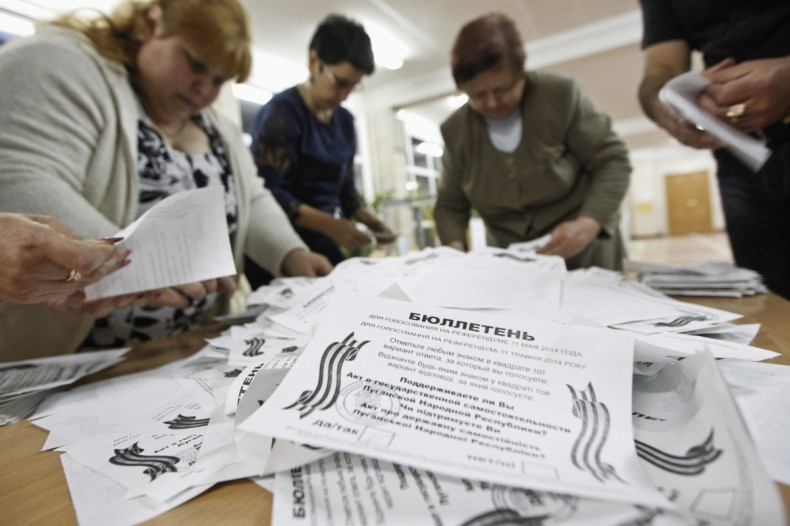 Pro-Russian protesters in the east of Ukraine claimed victory in a referendum held on Sunday to endorse secession from Kiev, potentially hastening the break-up of the country and worsening the west's face-off against Moscow.
Regional election officials claimed that, in the industrial region of Donetsk, 90% of those who voted answered 'yes' to the only question on the ballot, "Do you support the Act of State Self-rule of the Donetsk People's Republic/Luhansk People's Republic?"
According to Roman Lyagin, the election commission chief of the self-declared Donetsk People's Republic, about 75% of the population voted in Donetsk. Polling closed in Luhansk, another eastern region under the grip of the pro-Russian factions, but the separatists have not announced the results.
Kiev and its allies in the west have decried the referendum and criticised Moscow for orchestrating the break-up of the country.
Ukrainian ministers said the referendums were a "criminal farce" and a part of Moscow's land-grabbing plans in the east. Interim President Olexandr Turchynov said the referendums were "a step towards the abyss".
"It is a step [to] nowhere for these regions. It is euphoria that may lead to very complex consequences, and many people can already feel them," Turchynov added.
The combined population of the two regions is about 6.5 million, or roughly one tenth of the population of the UK.
Polling in most places was peaceful but there was no independent international monitoring of the proceedings, and several reports said widespread rigging and double voting took place.
A CNN report said people were seen voting twice at one polling station and that many voters could not find their names on the outdated registration lists. But they were still allowed to vote if they showed identity documents, potentially making it possible for them to vote in multiple polls.
Local reports also said three men were held near Slovyansk with boxes full of "yes" ballots.
At least one person was killed as protesters clashed with Ukrainian security forces.
Pro-Russians in Donetsk said another referendum would be held on 18 May to ratify a move to join Russia. The separatists have already said they would boycott Ukraine's presidential election, set for 25 May.
"We are just saying to the world that we want changes, we want to be heard," Lyagin said.
In sharp contrast to the 'victory' proclaimed by the separatists, an independent poll by the Pew Research Center had indicated that about 70% of the people in eastern Ukraine favoured a united country.