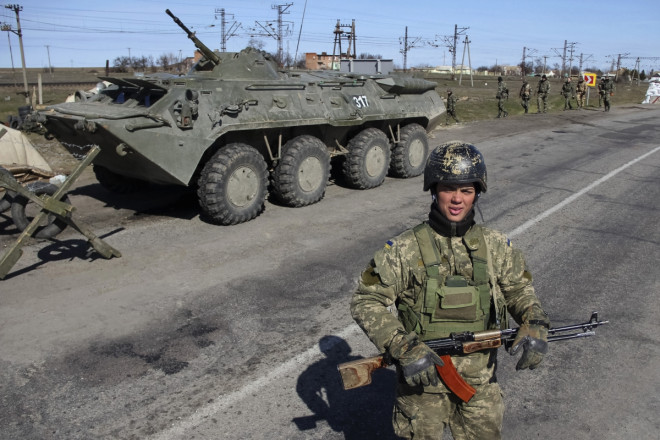 Ukraine's defence ministry has authorised troops to use force to defend themselves in Crimea after one serviceman was killed and another injured when a base was stormed by armed men.
Yevpatoriya base commander Col Andrey Matvienko told ABC servicemen were allowed to use weapons if they felt under threat.
ABC news correspondent Alexander Marquardt tweeted:
The defence ministry said the decision was taken after attackers dressed in Russian uniform raided a naval base in the regional capital of Simferopol.
Vladislav Seleznev, a spokesman for the Ukrainian armed forces in Crimea, said a truck bearing a Russian flag was used in the operation.
The incident occurred hours after Russian president Vladimir Putin and Crimean leaders signed a treaty to annex the Black Sea peninsula after an overwhelming vote in favour of secession from Ukraine.
Ukraine's foreign ministry said that it did not recognise the annexation treaty.
British foreign secretary William Hague called the annexation of Crimea by Russia a land grab.
Thousands of troops believed to be Russian took over key locations across Crimea in the wake of the revolution that toppled Kremlin-backed president Viktor Yanukovich in Kiev.