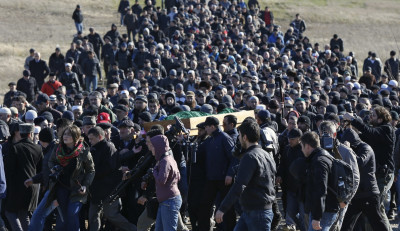 Hundreds of mourners have attended the funerals of a Crimean Tatar who was snatched from a protest against the pro-Russian takeover of the Ukrainian peninsula and found dead with signs of torture on his body days later.
Reshat Ametov, 39, was hauled away from a demonstration in the Crimean capital of Simferopol by three men in military jackets in early March.
His naked body, bearing marks of torture and beating, was found two weeks later outside the town of Belogorsk, 45km northeast of Simferopol.
Some 300 members of Crimea's Sunni Muslim Tatar community gathered at a cemetery outside the capital to pay their respects the father-of-three.
"This is the first time in 20 years that this has happened," one mourner said. "I don't think this will be the end.
"Putin arrives and this happens. Of course it's him. It's like there is a plan for some kind of civil war.
"The Russian army is here, people are scared and nobody wants to live staring down the barrel of a gun."
Some 250,000 Muslim Tatars live in Crimea, making up about 12% of the population.
The community boycotted the referendum on whether the region should secede from Ukraine and join Russia.
Tatars were forcefully deported to Siberia by Stalin in the 1940s and many came back to Crimea only after the collapse of the Soviet Union.
Crimeans, a majority of whom are ethnic Russians, voted overwhelmingly for annexation to Moscow, a vote that has been codified in law by Putin.
Western powers condemned the vote as illegal in that it breached the Ukrainian constitution and was held under military occupation.
Thousands of troops believed to be Russian took over key locations across Crimea in the wake of the revolution that toppled Kremlin-backed president Viktor Yanukovich in Kiev.
A friend of Ametov said the construction worker planned to enlist for the Ukrainian army just before he was abducted.
"For weeks, armed masked men who refuse to identify themselves have harassed and intimidated people," said Rachel Denber, deputy Europe and Central Asia director at Human Rights Watch.
"The disappearance and murder of Reshat Ametov illustrates the climate of lawlessness that has been pervasive in Crimea.
"Crimean authorities have a duty to thoroughly investigate this case and punish those responsible, whoever they are," Denber said.