Russian president Vladimir Putin has rebutted Western protests and said that the referendum in Crimea was held "in full accordance with democratic procedure and international law".
In a special address to a joint session of the Russian parliament, Putin said: "In people's heart of hearts we know Crimea has always been an inalienable part of Russia."
The Black Sea peninsula was "saturated with our common history", he added.
He accused the US and EU of crossing the line over Ukraine and acting "unprofessionally and irresponsibly".
"We are not against cooperation with Nato. We are against a military organisation alongside our territory," he stressed.
Putin was met with a standing ovation as he opened the address to "citizens of Russia and residents of Crimea". His speech was greeted with thunderous applause.
Following the speech, Putin and pro-Russian Crimean leaders signed a treaty to accept the "Republic of Crimea" and city of Sevastopol as part of the Russian Federation.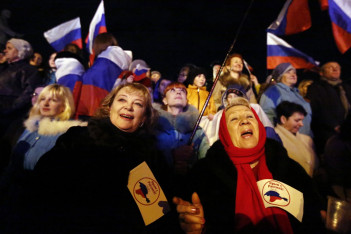 Putin said that Russia was "robbed" of Crimea, which was handed over "like a sack of potatoes" after the breakup of the Soviet Union.
"Millions of Russians went to sleep in one country, and woke up in another," Putin said. "What seemed incredible became a reality - the USSR fell apart.
"We could not leave Crimeans alone in their time of need. It would have been treachery, plain and simple."
Putin referred to the removal of pro-Russian premier Viktor Yanukovich as a coup d'etat and criticised the new government in Kiev.
"There is still no executive power in Ukraine. There's nobody to talk to," he said. "The government is made up of usurpers and controlled by radicals."
Crimean authorities, according to Putin, acted on the "Kosovo precedent created by our Western partners".
"The US and Europe say Kosovo is a special case. What is so special?" he said.
He said that Crimea's secession from Ukraine, which a huge majority of Crimeans voted for in a referendum dismissed as illegal by the West, repeated Ukraine's own secession from the Soviet Union in 1991.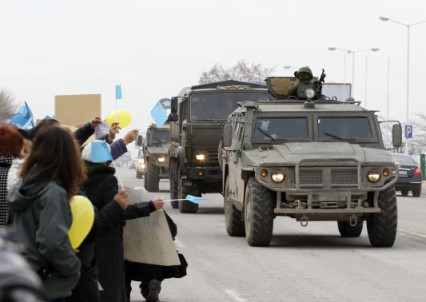 Putin said he wanted to protect the Tatar minority in Crimea.
"Three hundred thousand Tatars are also looking forward to being with Russia," Putin said.
"Crimea Tatars will be granted full rights under Russia. We'll support three official languages - Russian, Ukrainian, Crimean Tatar."
Putin signed a decree recognising the Republic of Crimea as an "independent and sovereign state" in defiance of the US and EU. The decree would come into immediate effect.
Putin's announcement cames hours after the US and the EU imposed sanctions on Ukrainian and Russian officials, which were followed by a warning from President Barack Obama that more clampdowns would come if Russia did not stop its "interference" in Ukraine.
On Sunday, nearly 97% of voters in Crimea supported the secession from Ukraine.