A Ukrainian journalist has told IBTimes UK that he was shot at while filming, and claimed that opposition snipers are retaliating against government forces.
Aleksey Yaroshevskiy, RT's correspondent in Kiev, also claimed Ukraine has already descended into civil war in an exclusive interview.
Following reports of government snipers firing on unarmed crowds of demonstrators, Yaroshevskiy spoke to IBTimes UK from his hotel room between the police and protester lines in Kiev where he is holed up due to the unfolding unrest.
Yaroshevskiy said he was shot at by unidentified snipers while lining up a camera for a live broadcast at the Ukraine hotel, a hub for the foreign media who have gathered in Kiev to cover the chaos.
He said the shot "hit the wall and something tore my colleague's bullet-proof vest. The only thing we could do was duck.
"But we did the shot with a view of the holes in the windows which was perfect for the report".
Yaroshevskiy added that the opposition now have snipers of their own - as he has seen first-hand.
"We have seen snipers in the flesh on the 14<sup>th floor of our hotel. Opposition snipers have taken over several rooms in the hotel.
"They were firing shots from the 14<sup>th floor and we assumed that they were shooting at the police, it was kind of a shoot-out situation."
Until now, the protesters have only been armed with petrol bombs and other projectiles.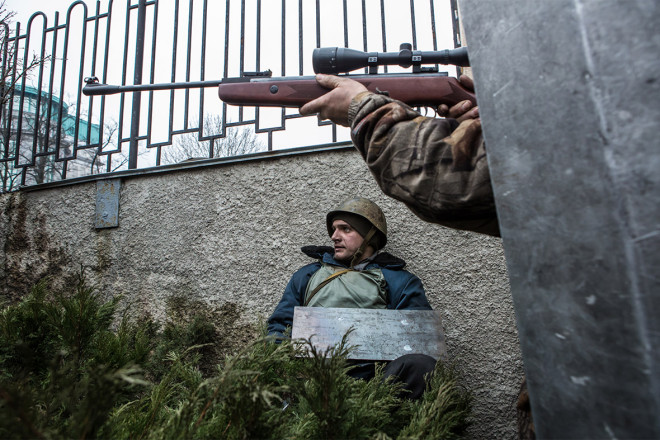 Civil War
Yaroshevskiy is resolute in his belief that Ukraine has now descended into a full civil war.
"Ukraine is already in civil war," he said. "Judging by my experience of living in Kiev, it's already in a state of civil war...It's a confrontation between several ideologies and parts of the country."
He confirmed that both sides are firing live rounds at one another.
"I saw the protesters charging the police, they [the protesters] attacked them with live rounds, the police also fired at the protesters."
Regarding the immediate future, Yaroshevskiy does not see how Ukraine can continue in its current form.
"My only hope right now is that, if the country breaks into several parts, it will happen without any military involvement.
"Right now it's not a ceasefire, it's a nervous wait for something, whether that's a state of emergency and a ceasefire."
The reporter also revealed that "all government buildings" in Lviv, western Ukraine, have fallen into the hands of protesters, which "shows Ukraine is in civil war."
Fierce clashes have continued on the bloodiest day of the unrest, with the BBC reporting at least 22 people have died so far. Twenty six were killed yesterday.
The Ukrainian opposition and at least 10 pro-government MPs have called for an emergency parliamentary meeting as a conclusion to the unrest is sought.
Follow our live blog for Ukraine updates here.