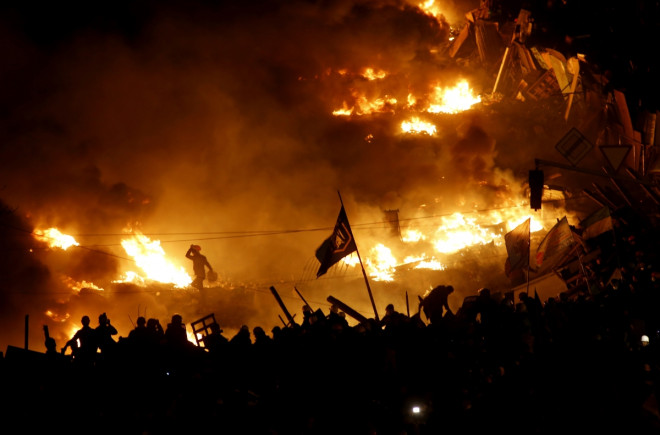 With Ukraine braced for more violence after the SBU security services announced a nationwide "anti-terrorist operation" to restore order, a graphic video showing a woman gunned down during a protest outside the agency's headquarters in the city of Khmelnytskyi has emerged.
The footage shows a crowd of protesters surrounding the building in the western Ukrainian city in an apparent attempt to storm it.
A few individuals armed with batons are seen clearing broken glass from the smashed doors when a burst of gunfire erupts. Shouts of panic are heard and a woman is shown lying senseless on the ground.
According to some local reports, she was rushed to hospital where her condition was described as desperate. Two people were also reportedly wounded.
Protesters are then seen pushing a bus towards the entrance to use as a barricade.
It was not clear who opened fire on the protesters. The shots seem to come from inside the building.
Army head sacked, 'anti-terrorism' operation launched
The SBU accused protesters of seizing hundreds of firearms from its offices around the country and said it would launch a nationwide anti-terrorist operation to quell the violence.
The defence ministry said troops might be used. The aim, it said, was "to stop extremism and the illegal actions of radical groups that threaten the lives of millions of Ukrainians, to ensure protection for peaceful civilians and not to allow civil war in Ukraine".
In another development, President Viktor Yanukovych, who is clinging on to power after three months of protests, dismissed the head of the armed forces Volodymyr Zamana.
No reason for the sacking was given.
Earlier in February, Zamana, who is to be replaced by the head of the navy, Yuriy Ilyin, was quoted as condemning the use of armed forces "to limit the rights of citizens".
Yanukovych 'like Gaddafi'
In Kiev, almost 24 hours after at least 25 people were killed in clashes between security forces and demonstrators, protesters seized control of the central post office in Maidan square.
"Yanukovych, you will end like Gaddafi," opposition lawmaker Oleh Lyashko Lyashko told thousands of angry protesters. "Either you, a parasite, will stop killing people or this fate will await you. Remember this, dictator!"
Maidan, also known as Independence Square, has been the heart of anti-government demonstrations. Violence escalated on Tuesday when riot police moved in to clear a protest camp there.
Protests were sparked in November by Yanukovich's rejection of a trade and investment deal with the European Union.
The deal was seen by demonstrators as a symbol of Ukraine's future with the West. Its dismissal was regarded as a betrayal by Yanukovich under pressure from Russia, which ruled over Kiev before the collapse of the Soviet Union. .
President Vladimir Putin had been pressuring Yanukovich to sign an alternative customs union with Russia, Kazakhstan and Belarus instead of closing the deal with the EU.
"The revolution has turned into a war with the authorities," said Vasyl Oleksenko, 57.
"We must fight this bloody, criminal leadership. We must fight for our country, our Ukraine."