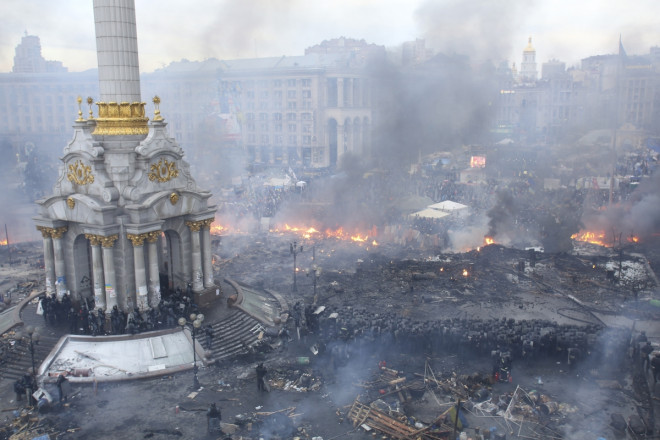 Ukrainian president Viktor Yanukovich faces EU sanctions after clashes between police and protesters left at least 25 people dead in Kiev.
EU Commission president Jose Manuel Barroso expressed "shock and utter dismay" at the violence and urged members states to vote in punishing measures against those responsible.
"We expect that targeted measures against those responsible for violence and use of excessive force can be agreed by our member states as a matter of urgency, as proposed by the high representative/vice-president [EU diplomat Catherine Ashton]," Barroso said.
The proposal was immediately backed by Poland and France.
"The moral judgment here is black and white, there are no grey areas," Polish prime minister Donald Tusk said. "Responsibility for the violence in Kiev rests with the government, not the opposition.
Ukrainian police moved on Tuesday to clear a protest camp in Kiev's Independence Square, known as the Maidan, the heart of anti-government demonstrations sparked by Yanukovich's rejection of a trade and investment deal with the European Union in November."Everything must be done to stop the violence," added a spokesperson for France's Francois Hollande, who called for "individual sanctions" to be put in place.
Riot police launched the attack after protesters marched on government buildings and set fires outside parliament. More than 200 people were injured in the clashes. One protester was beheaded.
Swedish foreign minister Carl Bildt tweeted:
Yanukovych blamed opposition forces for the bloodshed, while his Russian patrons said the West was responsible.
"What is happening is a direct result of the conniving politics of Western politicians and European bodies," the Russian foreign ministry said.
Yanukovych turned down the trade deal with the EU under mounting pressure from President Vladimir Putin who wanted Ukraine to sign an alternative customs union with Russia, Kazakhstan and Belarus instead.
Pope Francis has urged both parties to end the violence.
"I've been following what's happening in Kiev with a worried heart," Francis said. "I'm close to the Ukrainian people and pray for the victims of violence."