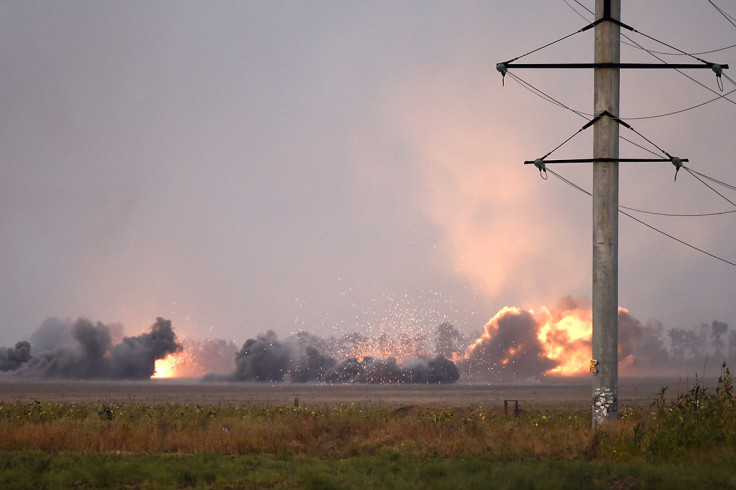 A Ukrainian soldier was killed on the frontline in fighting with pro-Russian separatists in eastern Ukraine, despite renewed diplomatic efforts to enforce a truce deal between government troops and rebels.
"In the past 24 hours, one Ukrainian soldier was killed and another one wounded" in the village of Pisky near the airport of the key rebel-held city of Donetsk, army spokesman Andriy Lysenko told a news conference on Tuesday morning.
He is the first combat victim recorded among the Ukrainian forces since 15 April, when the army said one soldier was killed despite a cease-fire deal.
Fighting in the region had largely dwindled following the Minsk ceasefire accord signed on 2 February, but surged again on 14 April, when six were killed and 12 injured.
'Stable but tense' situation
On Tuesday, Lysenko said "the situation is stable but tense".
European Organization for Security and Co-operation in Europe (OSCE) observers reported ongoing heavy arms fire by both sides at the front over recent weeks despite the 2 February cease-fire agreement.
The Russian-backed separatists also shot at Ukrainian positions using tanks and 120 mm caliber mortars, arms which should have been pulled back by now, in accordance with the second agreement signed on 13 April, Lysenko said.
The OSCE said Monday the Ukrainian military had drawn up proposals for a withdrawal of forces on both sides from the flashpoint village of Shyrokyne, near the strategic government-held city of Mariupol, where it says the few dozen civilians who have not fled are suffering from a lack of food and water.
Michael Bociurkiw, spokesperson for the OSCE Special Monitoring Mission to Ukraine of the OSCE, last week told IBTimes UK the upsurge in violence means the humanitarian situation in the most heavily shelled areas, such as Shyrokyne, is becoming "extremely dire".
"People – most of them elderly – are hiding in their basement. They have no drinking water, they have no power, there is no medicine, their food stocks are very low and they are down to just eating porridge and fish."