Ukranian Woman Wears Make-up Looted from MH17 Crash Site on Instagram
An Instagram user in Ukraine has provoked global outrage after boasting about wear mascara looted from the crash site of the Malaysia Airlines flight MH17 plane.
She posted a photo of the cosmetic on the app commenting: "Mascara from Amsterdam, from the field to be precise, you know what I mean."
The user called Katya, nicknamed Zolotusya, is from Torez, just a few miles from where the MH17 Boeing 777 came down last Thursday.
The woman has been named as Ekaterina Parkhomenko, who describes herself as a "separatist" from the eastern region of Ukraine.
She claims on Instagram the mascara had come from "a friend".
"One looter I know gave it to me, let's put it this way", she commented on the photo when asked where she had got the mascara.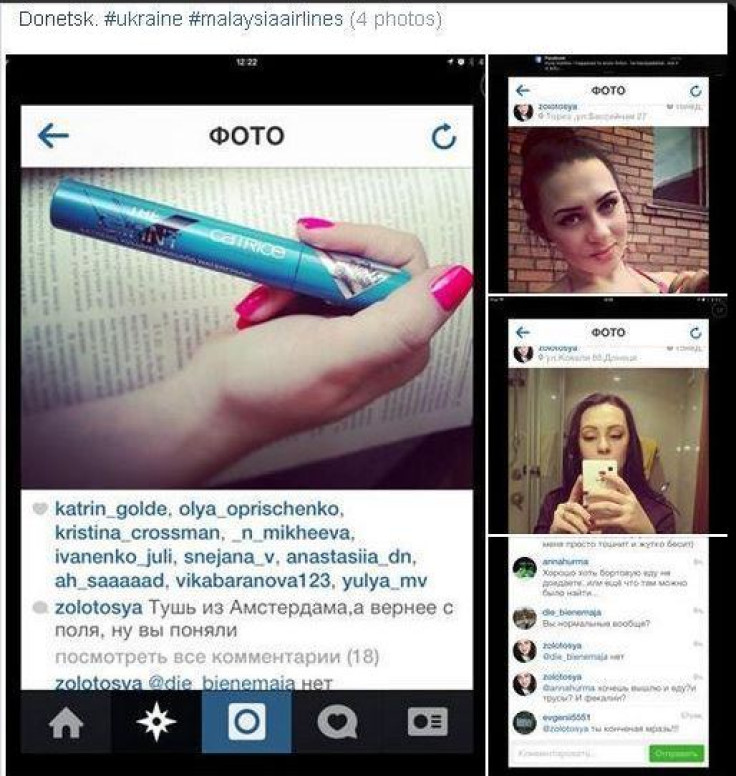 The posting attracted a furious backlash from other users of the site. Some branded it "disgusting and horrific" before it was deleted.
The news comes as fears continue over the security of the crash site in Grabovo.
It has been reported that credit cards belonging to the victims of the Malaysia Airlines flight have been used to purchase items in Ukraine since the crash.
Relatives of the dead have also reported that their loved ones' mobile phones are being answered by people with "eastern European sounding voices".
Nine days after the crash, many bodies are still lost in the fields of sunflowers that surround the area – and could remain until the 5ft high crops are harvested next month.
The investigation is being led by a Dutch team on-site in Ukraine as 194 of those killed in the crash were from the Netherlands.
Parkhomenko's profile has since been removed from Instagram.
© Copyright IBTimes 2023. All rights reserved.