Avant Garde Ultraviolet Restaurant that Serves 10 Guests a Night Wows Shanghai Diners [PHOTOS]
The Ultraviolet restaurant, which serves 22 course banquets that aim to stimulate all five senses of guests, opened in Shanghai a couple of months ago and has been astounding diners every night with its avant-garde offerings. Housed in a warehouse in central Shanghai, the Ultraviolet restaurant serves only 10 guests a night and is the brainchild of French-born Paul Pairet. The restaurant serves each course with a tailored set of visual, audio and olfactory stimulants.
Ultraviolet was reportedly a long-term dream project of Pairet, who at the age of 18, or so the story goes, decided to convert either one of his hobbies - cooking or photography - his business in life. As it turned out, Ultraviolet seems to be a combination of both!
"Ultraviolet by Paul Pairet - An exciting, groundbreaking dining concept, conceived in the daring mind of this Frenchman for over 15 years, has finally taken root in Shanghai. Pairet and his team have been working on this world-exclusive, 10-seat restaurant, where visuals, lights, sounds, smells and ambiences are choreographed to enhance and interact with food," according to a statement issued by the official Web site of the restaurant.
The restaurant has just one table - for 10 guests, all of whom are meant to sit together. The restaurant has no interior décor but light and sounds adorn the place.
"No décor, no artifacts, no paintings, no views… Ultraviolet's dining room is ascetic by nature. Specifically equipped with multi sensorial high-end technology, the dining room is dressed-up by lights, sounds, music, scents… a cool air blow, an immersive projection, images and imagination…and food. Each course is enhanced with its own taste-tailored atmosphere. Ultraviolet is the first experimental restaurant of its kind," the statement continues.
The décor and mood of the restaurant's interiors changes with the food type. If served a French dish, you might find yourself surrounded by visuals from France or it could just seem to be raining outside as you dine.
Since Ultraviolet is only a 10-seat restaurant, advance booking has to be done to dine here. Bookings are opened three months in advance and a waiting list is opened six months in advance.
Ultraviolet has set menu prices starting from RMB 2,000 per person (£202), which includes beverages.
Catch a glimpse of the Ultraviolet restaurant and how it stimulates senses through avant garde ambience…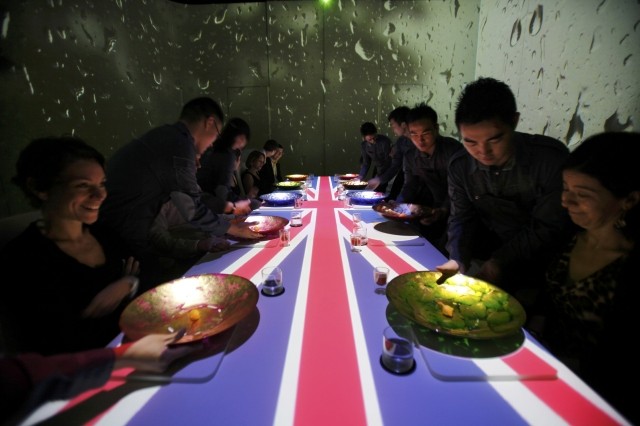 © Copyright IBTimes 2023. All rights reserved.