The forced evacuation of east Aleppo under siege conditions and constant airstrikes by Syrian and Russian forces was a war crime a UN investigatory panel has concluded.
Both warring factions in the final push by pro-Assad forces for control of east Aleppo committed war crimes the UN has said in its report.
It has confirmed what had already been widely reported by human rights groups and international NGOs saying Russian and Syrian forces had carried out indiscriminate attacks on civilian areas, targeting hospitals and other non-military buildings.
The UN also said the Assad regime had repeatedly used chemical weapons and cluster munitions on the civilian population in eastern Aleppo from July until the rebel-held enclave fell on 22 December.
The report has shed light on one of the final, most fiercely contested episodes at the close of the siege. The UN has placed blame for airstrikes on a humanitarian convoy on 19 September squarely on the Syrian regime. The caravan of aid trucks had been due to deliver much needed medicine and food west of Aleppo. Twenty civilians and aid workers were killed in the airstrikes.
"By using air-delivered munitions with the knowledge that humanitarian workers were operating in the location, Syrian forces committed the war crimes of deliberately attacking humanitarian relief personnel, denial of humanitarian aid, and attacking civilians," the report said.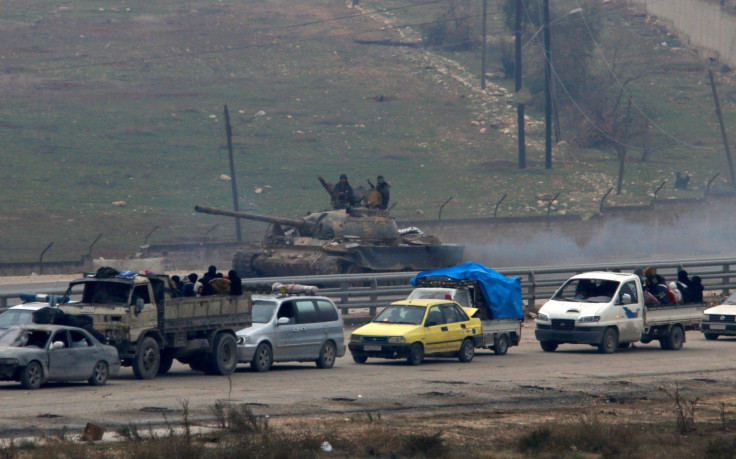 "First helicopters dropped barrel bombs, which struck the warehouse and a family home nearby... Subsequently, planes, described by several witnesses as Sukhoi jets, carried out attacks, killing several aid workers. Lastly, the aircraft fired machine guns at survivors," it added.
The tactics used by Assad's forces pointed to a wider surrender or starve tactic employed by the regime. Five thousand Syrian army troops and supporting militias encircled eastern Aleppo to enforce Damascus' siege.
"The scale of what happened in Aleppo is unprecedented in the Syrian conflict," panel chairman Paulo Pinheiro said.
"Much of Aleppo, once Syria's biggest city and its commercial and culture centre and a UNESCO World Heritage site, has been reduced to rubble," Pinheiro told reporters at a press conference.
He added that a new UN body for Syria was in the process of sharing a list of war criminals on both sides of the six-year civil war.