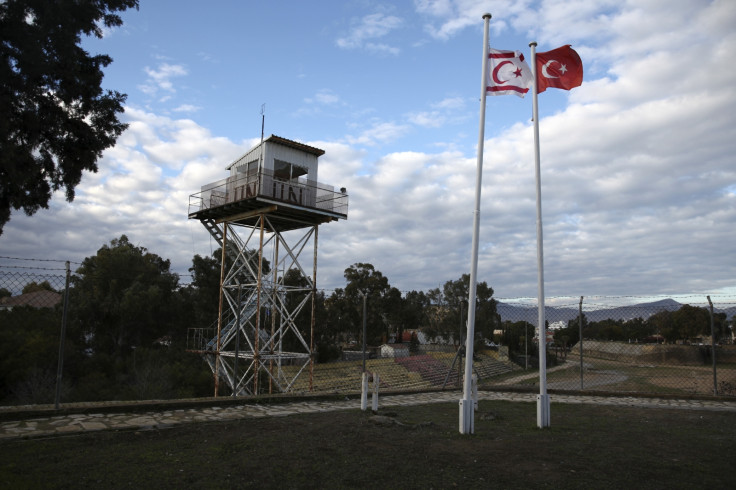 U.N. Secretary-General Antonio Guterres announced late Sunday that the rival leaders of ethnically divided Cyprus have agreed on new talks in Geneva this month, a significant step forward which could see the final round of negotiations on a peace agreement to reunify the Mediterranean island.
Guterres invited Greek Cypriot President Nicos Anastasiades and Turkish Cypriot leader Mustafa Akinci to a working dinner at U.N. headquarters to try and break an impasse. Two years of negotiations have made significant strides, but a dispute over how a final summit aiming for a reunification deal should proceed brought talks to a standstill late last month.
Cyprus was split into a Greek Cypriot south and a Turkish Cypriot north in 1974 when Turkey invaded after a coup by Cypriots who supported uniting the island with Greece. Turkish Cypriots declared an independent state in 1983, but only Turkey recognizes it and still maintains around 35,000 troops there.
Anastasiades insisted on first dealing with the issue of the withdrawal of Turkish troops that Greek Cypriots consider a threat. He has proposed that an international police force oversee post-reunification security, but the minority Turkish Cypriots see Turkish troops and military intervention rights accorded to Ankara as their only protection.
Akinci insisted he wanted no conditions and that the Geneva summit should be a give-and-take on all issues
Guterres announced that both leaders agreed the issue of security is "of vital importance" and "an essential element in reaching an overall agreement and in building trust between the two communities" — and would be given a high priority in Geneva.
He said his special adviser on Cyprus, Espen Barth Eide, will engage with all participants "in preparation of the common documents to guide discussions on security and guarantees."
Eide called off mediation efforts May 26 following the disagreement between Anastasiades and Akinci but said three days later that despite the breakdown "we are indeed very, very close — actually more close than most people seem to understand" to an agreement to reunite Cyprus.
Guterres did not announce a date for the new round of talks, saying they would be held "soon" after consultations with the three guarantors of Cyprus' security — Greece, Turkey and the United Kingdom.
He said he will also reach out to the European Union, which was an observer at the first round of negotiations in Geneva in January. Cyprus joined the EU in 2004, but only the internationally recognized Greek-speaking south enjoys full membership benefits.
The Geneva summit has to be held in June because the Cyprus government is expected to go ahead with offshore exploratory gas drilling by French energy company Total starting in mid-July. Texas-based Noble Energy discovered a gas field in earlier drilling in Cyprus waters estimated to contain over 4 trillion cubic feet in reserves.
Akinci had asked Anastasiades to suspend drilling. Turkey and the Turkish Cypriots oppose drilling because they consider it a unilateral Greek Cypriot action that ignores the rights of both to the island's mineral wealth.
Guterres said the leaders agreed to continue parallel negotiations in Geneva on all other outstanding issues including the territory that their respective federal zones should control, the return of property or compensation, and governance and power sharing.
The secretary-general said he and the two leaders "agreed that all issues will be negotiated interdependently and that nothing is agreed until everything is agreed," in accordance with the principles the two sides agreed on in February 2014.
Before dinner began, the U.N. chief posed for photographers between the two leaders — crossing his hands to hold one with Anastasiades and the other with Akinci.
Guterres smiled broadly but the two leaders did not.
But standing beside the secretary-general when he read his announcement of the Geneva talks after their four-hour meeting, Anastasiades and Akinci looked more relaxed and smiled though they did not speak to reporters.
Akinci told reporters as he headed into the dinner meeting: "What we need from now on is political will and determination more than ever — and more than time."
If both sides stay within principles agreed on in February 2014 and parameters in the joint declaration afoter the January Geneva conference, "then the way forward can be opened and we are here for that."
Anastasiades told reporters he didn't come to the U.N. "for a blame game."
"I'm always in line with what we have agreed, and I do expect that today we can pave the way for a constructive dialogue in order to reach not just progress but a settlement," he said.