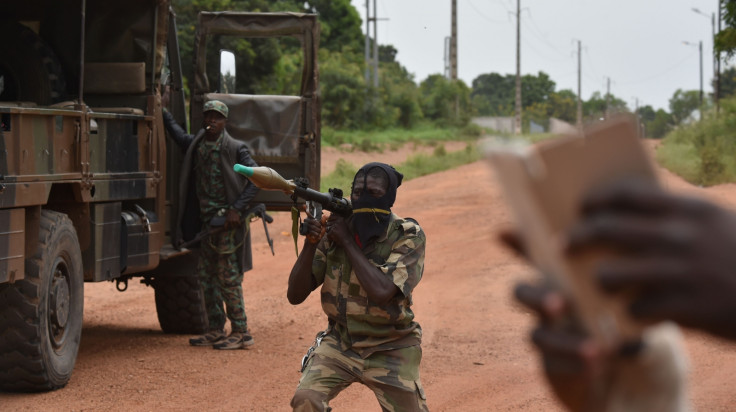 Renegade soldiers in Ivory Coast have rejected a deal to end a four-day mutiny after the Minister of Defence announced on state television that an agreement had been reached with the military.
Mutinies in the Ivorian army, which brought Ivory Coast to a standstill in January, subsided after the government gave in to soldiers' demands over back pay and bonuses, agreeing to pay 12m CFA francs in bonuses (£15,350; €18,000). Soldiers received their first instalment but the state has been unable to pay the balance following a collapse in the price of cocoa, the nation's main export.
On 12 May, mutineers revolted after a spokesman for the group made a surprise announcement in which he dropped their demands for bonus payments, promised during negotiations in January.
Soldiers took over major urban areas of the Ivory Coast including Bouake, the second-biggest city and heavy gunfire paralysed much of the commercial capital, Abidjan, and the western port city of San Pedro.
On Monday (15 May), Defence Minister Alain-Richard Donwahi made a two-minute statement in which he said that an arrangement to end the crisis had been reached, without specifying the modalities.
But two spokesmen for the 8,400 mutineers immediately rejected the government's proposal and proposed amount. "They offered 5m CFA francs ($8,360, each) payable tomorrow, but we want 7m paid in one go," Sergeant Seydou Koné is quoted as saying by Reuters.
Soldiers – former rebels who helped President Alassane Ouattara to power and are now embadded in the army – also rejected the proposal, saying they had not been consulted.
"We do not recognise the agreement. Are we baptised without the baptised? No representative of Bouake was present on Monday at their 'agreement'. According to what is known, it was a meeting of high-ranking officers," a mutinous soldier, who asked to remain anonymous, is quoted as saying by Ouest France.
The recent revolts underscore stark divisions within the military, which have remained since Ouattara took office at the end of the second Ivorian civil war in April 2011.
Ouattara clinched power after his RDR party formed a coalition with the Force Nouvelle (FN) rebel groups that had held much of the country's north since the civil war in the mid-2000s. The majority of those involved in the recent mutiny were former FN fighters who had been promised the bonuses at the end of the war.
The deep rift in the armed forces is one of the challenges facing Ouattara, who secured a second term in a landslide victory in 2015 but vowed to step down in 2020.