Worldwide confidence in the leadership of the United States has fallen to a new low, according to a poll by Gallup.
A total of 134 countries were surveyed to provide their thoughts on America's place on the world stage, with the latest poll showing a collapse in confidence.
The poll which first started more than 10 years ago, last found that under Barack Obama, the approval rating of the US stood at 48%, a number that has since been slashed to just 30% under the leadership of Donald Trump.
Replacing the US as the top rated world leader, was Germany, who despite their own recent political dramas, finished with an approval of 41%.
The Communist regime in China received a greater approval than the US, with 31% applauding the country under Xi Jinping.
Around half of the 134 surveyed countries saw their approval of the US tumble by at least 10%, with many of big falls coming from Europe, South America and Australia.
One of the sharpest declines in confidence in the US came from one of its closest allies – the United Kingdom, with a fall of 26%.
Trump's numbers were last seen in the final years of the Bush administration when the figures were in the mid-30s.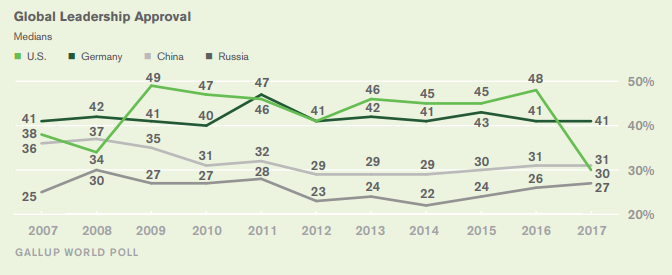 Gallup's managing partner, Jon Clifton said: "This year marks a significant change in our trends. Only 30% of the world, on average, approves of the job performance of the US's leadership, down from 48% in 2016. In fact, more people now disapprove of US leadership than approve. This historic low puts the US's leadership approval rating on par with China's and sets a new bar for disapproval."
Gallup noted a recent study by Dartmouth and Australian National University that found that "public opinion about US foreign policy in foreign countries does affect their policies [toward] the US."
Since becoming president one year ago, Donald Trump has angered nations for his sudden outbursts and comments. His America First strategy has seen him pull out of international treaties and agreements.
In 2017 he suggested pulling out of the North American Free Trade Agreement (NAFTA) as well as threatening to pull UN funds. The United States became the only country in the world not to be part of the Paris Climate Agreement when he pulled out in 2017.
His attacks on individual world leaders and foreign countries have also seen the US's image take a beating.
Trump recently described several nations as "shithole countries" in a recent discussion over migrants, and has traded barbs with the Mayor of London, British Prime Minister Theresa May, and the former French president Francois Hollande.
In the Gallup survey, 1,000 adults, aged 15 and older were asked about confidence in the US between March and November 2017 from 134 countries. Gallup said that there was margin of error- ±2.0%.