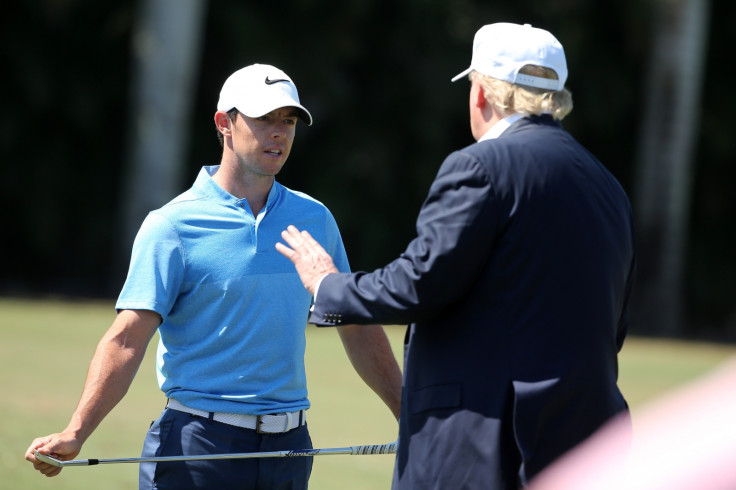 Rory McIlroy is sorry he "p*ssed people off" with his round of golf with US President Donald Trump, insisting he had little choice but to "respect the office".
Four-time major winner McIlroy accepted an invitation from Trump to join him for 18 holes at the Trump International in Florida on 19 February. The 27-old received a fierce backlash on social media for the appearance with the hugely divisive 45th president, claiming he was later labelled a "fascist" and a "bigot".
Speaking ahead of his return to golf at this week's WGC-Mexico Championship, McIlroy admitted he was shocked by the response he received from that appearance, insisting golf, rather than foreign policy, was the subject of their conversations on the green.
McIlroy told a press conference. "I was just doing what I felt was respectful. The President of the United States phones you up and wants to play golf with you, I wasn't going to say no.
"I don't agree with everything he says but it is what it is. I am not an American. I can't change the political system. I can't vote. Even if I could vote I don't think I would have. I would have voted for an independent or someone else.
"I actually enjoyed myself. I had a good time. I'm sorry if I p*ssed people off but I felt I was in a position where I couldn't really do anything but say 'yes'. Respect the office even if you don't respect the guy that's in it. Go play, and go from there."
McIlroy also described the most surreal moment of their meeting was walking onto the green to be greeted by a gaggle of Trump's secret service men.
"I just approached it as a round of golf. Putting anyone's beliefs or politics to one side for a minute, to go there and to see 30 secret service and 30 cops, snipers in the trees, it was just a surreal experience for me to see something like that.
"That was part of the reason I went to play. Had it been [Barack] Obama I would have gone to play, I've played golf with President [Bill] Clinton, I've spent time with President [George W] Bush, I've around quite a few presidents. Putting beliefs to one side, I just wanted to have an experience. It is not as if we were talking foreign policy out there. We were talking golf. I think he was happier to talk gold than anything else has to do these days."
McIlroy will play his first tournament in seven weeks this weekend, having recovered from a rib injury that ruled him out of the start of 2017.