The United Nations Educational, Scientific and Cultural Organisation (UNESCO) has reclassified Judaism's holiest site as solely Muslim, in a move branded as absurd and "anti-Semitic" by Israel.
The Temple Mount and Western Wall in Jerusalem have been viewed as holy territory under Jewish faith. But UNESCO has now classed them as Muslim sites, which are known in Islam as the Haram esh-Sharif and Buraq Wall.
The resolution, passed on Thursday (13 October), condemns Israel for its activities in Jerusalem and the West Bank. The edict asserts that the site is holy to three monotheistic religions: Judaism, Islam and Christianity.
It is considered the third holiest site to Muslims, believed to be the place where the Prophet Mohammed made the miraculous night journey to and from Mecca in order to ascend to heaven.
The site is also home to the al-Aqsa mosque. which has been the scene of clashes between Jews and Muslims in 2016.
The resolution only refers to the site in its Muslim name and not by its Hebrew term, Har Habayit, or its English translation, the Temple Mount.
However, the resolution did not mention its importance and sacred status to the Jewish faith, as it is believed to be location of First and Second temples. The First Temple is believed to have been built by King Solomon in 957BC and was destroyed by the Babylonians in 586BC. Building work began on the Second Temple in 538BC and it was destroyed by the Romans in 70AD.
"What's next? A UNESCO decision denying the connection between peanut butter and jelly? Batman and Robin? Rock and roll?," Israeli Prime Minister Benjamin Netanyahu tweeted angrily after the decision.
The text of the Unesco resolution reads that the bloc "firmly deplores the continuous storming of the Al-Aqṣa Mosque/Al-Ḥaram AlSharif by Israeli right-wing extremists and uniformed forces."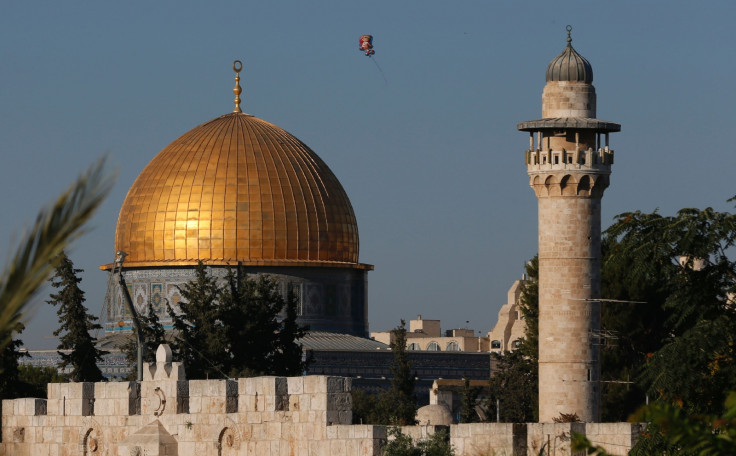 Agriculture Minister, Uri Ariel, sent an urgent letter to Netanyahu, calling on him to act by encouraging nations to end funding for the UN. "We in the government in general, and you as the foreign minister, should demand that the nations of the world condemn these anti-Semitic decisions, and immediately stop funding the UN," he wrote according to the Times of Israel.
Under Israeli law, Jewish citizens are not allowed to pray at the holy site in order to avoid potential violence, but many Jewish activists still rally there. In recent months Israeli police have clashed with Palestinians outside the temple, with police releasing tear gas and stun grenades.
In total, 24 member states in the UNESCO organisation backed the document, while six voted against and 26 abstained at a meeting in Paris. The UK and the US — alongside Estonia, Germany, Lithuania and Holland — all voted against.